Subject: #SoulBlast - THUR, 11/15! A Conversation with CHUCK D at The Andy Warhol Museum
Share a lil' Soul with
your Social Networks!
#SoulBlast - THUR, 11/15! A Conversation with CHUCK D at The Andy Warhol Museum

Forward to Friends Past Soul Blasts View Online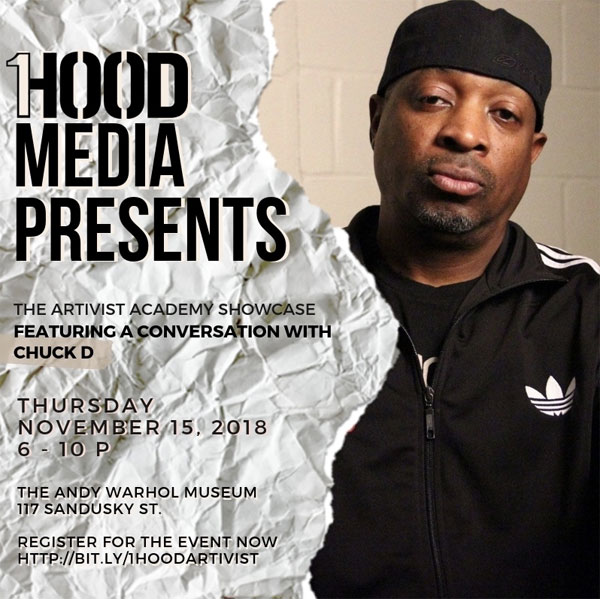 1Hood Media Presents:
The Artivist Academy Showcase

Thu, November 15, 2018
6:00 PM – 9:30 PM
@ The Andy Warhol Museum
117 Sandusky Street, Suite 206, Pittsburgh, PA 15212
Chop it up with the members of 1Hood's Artivist Academy for the first ever Artivist Academy Showcase. During the showcase, patrons will have an opportunity to meet with and enjoy performances and exhibits from 1Hood artists A'Leighsha J, Ayana Sade, Bearclaw, Brittney Chantele, Jacquea Mae, Jasmine Green, JM the Poet, Jordan Montgomery, Ron Butler, Treble NLS, and Paradise Gray.
Learn more about the artists, their projects and what informs their activism and artistry. Featuring a conversation with the legendary Chuck D, leader of the rap group Public Enemy and a member of the Rock and Roll Hall of Fame, Tamika Mallory - Co-chair of the Women's March on Washington, Hip-Hop Artist/Activist Mysonne, and Author and Founder of the Hip-Hop Political Convention Bakari Kitwana, moderated by 1Hood Media Co-Founder and CEO Jasiri X.


This is event is pay what you can.

A Soul Blast from TheSoulPitt.com goes out to thousands and those that they pass it on to!
All Soul Blasts are also posted on ALL of Soul Pitt's social media sites at no additional charge.
To get a blast call 412.407.SOUL or email adsales@thesoulpitt.com

GET SOULcial with SOUL PITT!