Subject: #SoulBlast - THIS SATURDAY March 31st! Summit on Violence Against Women & Girls | Free Admission
Share a lil' Soul with
your Social Networks!
#SoulBlast - THIS SATURDAY March 31st! Summit on Violence Against Women & Girls | Free Admission

Forward to Friends Past Soul Blasts View Online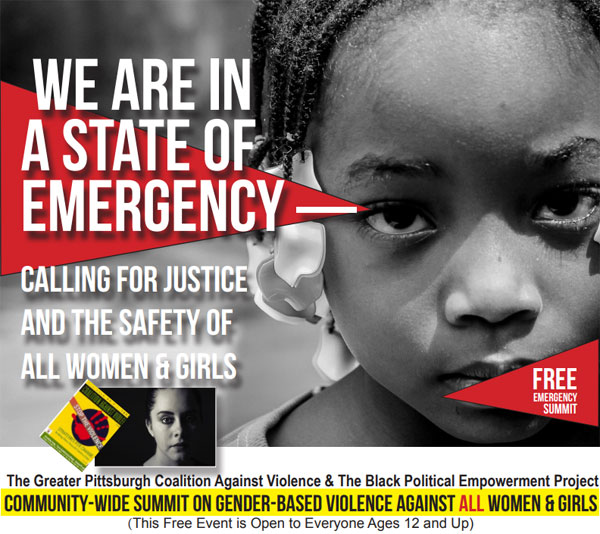 Saturday, March 31, 2018
9:00 am—2:00 pm
Doors open at 8:30 a.m.

RSVP required: Lunch will be provided
@ The Pittsburgh Theological Seminary
616 N. Highland Avenue, Pittsburgh PA 15206
Across from Obama Academy near
Home Depot Accessible by Bus Lines 71B, 75 and 89
Community Members, Community Organizations, Government Officials, Police, and Youth coming together to share resources, and discuss solutions for ending gender- based violence in our homes, institutions, and communities.

Sponsors:
Center for Victims, From the Inside Out, Greater Pittsburgh Psychological Association, Metro-Urban Institute of the Pittsburgh Theological Seminary, New Voices Pittsburgh (as of 3/5/18)
Community Partners:
A+ Schools, American Friends Service Committee, Black & White Reunion, Black Women for Positive Change, Cease Fire PA, Moms Demand Action for Gun Sense in America, NAACP – Pittsburgh Unit, Pittsburgh Bureau of Police, P.A.C.T. Initiative, St. James Impact Center, Voices Against Violence (as of 3/5/18)


This Free Event is Open to Everyone Ages 12 and Up
Click Here to Register on Eventbrite

We welcome more Sponsors and Community Partners.
We also need volunteers for various tasks.
Find out how you can be involved:
Call (412) 212-8775 or (412) 708-8734

E-mail: lmcclendonrvc@gmail.com
Website: www.b-pep.net



A Soul Blast from TheSoulPitt.com goes out to thousands and those that they pass it on to!
All Soul Blasts are also posted on ALL of Soul Pitt's social media sites at no additional charge.
To get a blast call 412.407.SOUL or email adsales@thesoulpitt.com
GET SOULcial with SOUL PITT!