Subject: #SoulBlast - THE YETU BAND LIVE: An Evening of Afro-Pop/Afro Jazz on Friday, Feb 23 at 8PM @ Spirit
Share a lil' Soul with
your Social Networks!
#SoulBlast - THE YETU BAND LIVE: An Evening of Afro-Pop/Afro Jazz on Friday, Feb 23 at 8PM @ Spirit

Forward to Friends Past Soul Blasts View Online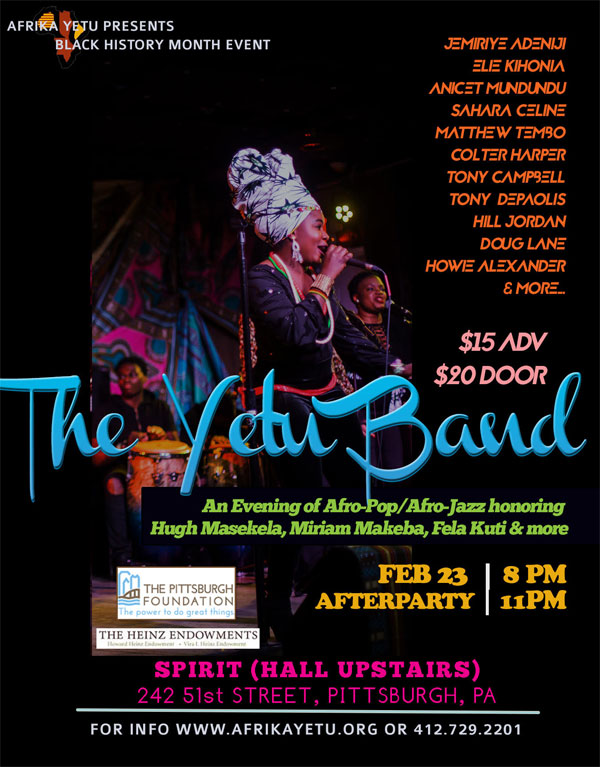 THE YETU BAND LIVE:


An Evening of Afro-Pop/Afro Jazz




Friday, February 23, 2018 at 8 PM



JOIN US for an evening honoring the pioneers of African Music, Afro-pop as well as Afro Jazz, as part of our BLACK HISTORY MONTH's events. THE YETU BAND, Pittsburgh's own all-stars jazz and Afro-pop band, including Jemiriye Adeniji, Elie Kihonia, Dr. Anicet Mundundu, Matthew Tembo, Sahara Nzongola & more, perform all the best selection of Afro Jazz as a tribute to the greatest and legendary musicians, notably Hugh Masekela, among the few.

This event will benefit Afrika Yetu's
educational programs in the Congo DRC


Your ticket to this event includes admission to the After Party
from 11pm-2am with DJ ViRUS playing afro-beats all night long.



Click Here to Purchase Tickets Online
Tickets: $15 in Advance | $20 at the Door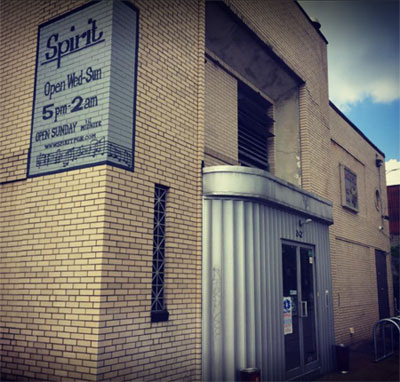 @ Spirit (Hall Upstairs)
242 51st St, Pittsburgh, PA 15201


Visit our site at www.AfrikaYetu.org
For more info and questions call
Afrika Yetu Inc at 412.729.2201
or call 412.540.0003


Afrika Yetu's vision is simple. Afrika Yetu Inc. is a cultural hub, building bridges between African immigrants and the American community. Afrika Yetu works to unite people through education, the arts and social networks.
A Soul Blast from TheSoulPitt.com goes out to thousands and those that they pass it on to!
All Soul Blasts are also posted on ALL of Soul Pitt's social media sites at no additional charge.
To get a blast call 412.407.SOUL or email adsales@thesoulpitt.com
GET SOULcial with SOUL PITT!