Subject: #SoulBlast - Sybrina Fulton, mother of slain teen Trayvon Martin, to Speak in Pittsburgh Jan 16th
Share a lil' Soul with
your Social Networks!
#SoulBlast - Sybrina Fulton, mother of slain teen Trayvon Martin, to Speak in Pittsburgh Jan 16th

Forward to Friends Past Soul Blasts View Online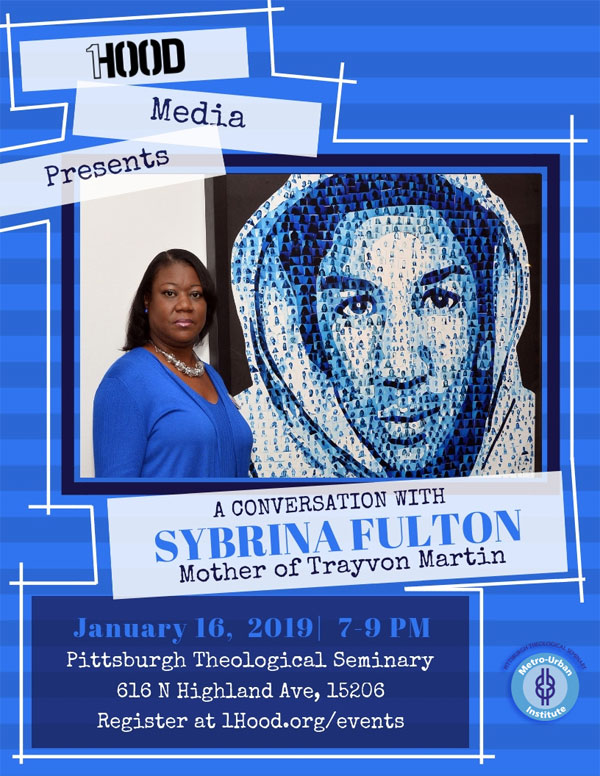 1Hood Media invites the community to join us in conversation on January 16, 2019, with activist and social change-agent, Sybrina Fulton. Ms. Fulton is the mother of Trayvon Martin, the 17-year old teen unjustly murdered by George Zimmerman in Sandford, Florida giving rise to the Black Lives Matter movement. The event, supported by the Metro-Urban Institute, will take place at Pittsburgh Theological Seminary from 7-9 PM.
After the murder of her son in 2012, Fulton was catapulted into the spotlight due to the controversy surrounding his death. On the evening of February 26, 2012, Martin was walking to his father's home after returning from the convenience store when he was spotted by George Zimmerman. Despite instruction, Zimmerman approached the unarmed teen and moments later an altercation ensued. Trayvon was shot during the scuffle and died as a direct result of his wounds. In the wake of Trayvon's death, Zimmerman was charged with and later acquitted of the murder on what was explained as self-defense.
In light of this tragedy, Trayvon's mother has made it her life's purpose to fight for justice for her son and all marginalized people who suffer at the hands of social inequity and police brutality. Since his death, Fulton co-founded the Trayvon Martin Foundation which focuses on youth in STEM, started The Circle of Mother's, an annual retreat for women who have lost a child to gun violence, wrote a memoir titled Rest in Power: The Enduring Life of Trayvon Martin and, most recently, received an honorary doctorate from Benedict College. "It is important that Sybrina visit Pittsburgh in this time. As we as a community grapple with the death of our own unjustly murdered seventeen year old, Sybrina comes with the words, lived experience, and love to help Pittsburgh navigate this most trying time." said Jasiri X, founder of 1Hood Media.
This event is made possible by the generosity of The Heinz Endowments. The Heinz Endowments is devoted to the mission of helping southwestern Pennsylvania prosper as a vibrant center of creativity, learning, and social, economic and environmental sustainability. Core to its work is the vision of a just community where all are included and where everyone who calls the region home has a real and meaningful opportunity to thrive.
This evening will be an opportunity to hear the first-hand account of life after tragedy from Ms. Fulton, activist, and change-agent. The conversation will take place at the Pittsburgh Theological Seminary located at 616 N Highland Ave, Pittsburgh, PA 15206 from 7-9 PM.

1Hood Media is asking for a donation of $20
and tickets are available here.

For media inquiries contact Jasiri X at Jasirix@1Hood.org.

A Soul Blast from TheSoulPitt.com goes out to thousands and those that they pass it on to!
All Soul Blasts are also posted on ALL of Soul Pitt's social media sites at no additional charge.
To get a blast call 412.407.SOUL or email adsales@thesoulpitt.com

GET SOULcial with SOUL PITT!