Subject: #SoulBlast - Sherwood's Weddings for Every Season BRIDAL SHOW on Sept 23
Share a lil' Soul with
your Social Networks!
#SoulBlast - 5 Reason to Attend Sherwood's Weddings for Every Season BRIDAL SHOW on Sept 23

Forward to Friends Past Soul Blasts View Online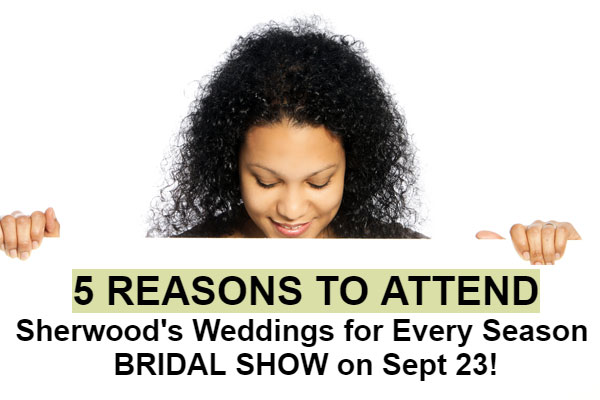 1) You Will be Entered to Win Cool Prizes!!
Reserve your complimentary tickets and you'll be entered to win a Special Wedding Upgrade Package that includes complimentary champagne and a souvenir ice bucket for the bride and groom, use of the wet bar & the commercial grill and special, pre-reception lounge set up. Valued at $450 (additional beverages must be supplied by customer. Other restrictions may apply).

2) Your Wedding Could be Announced
in Soul Pitt Quarterly!
We will select two Brides-to-Be to be featured in an upcoming issue of Soul Pitt Quarterly Magazine in the SoulMates section announcing their wedding with a photo and info on you and your groom-to-be!
3) You'll Get to Make Connections!
Get business cards and network with vendors that you may possibly use for your big day! Taste their food and/or desserts, see their designs, hear about their services, and share your own vision with them in person.
4) It's A One-Stop Shopping Experience!
Save time running around town and making calls by having all the vendors you need in one beautiful location! You could literally plan your entire wedding in one day and walk away with many of your to do's done.
5) Vendors, Vendors, and More Vendors!!
As if you need any more reasons to attend, check out our partial list of vendors planning to be to help you make your big day special:
PREMIUM VENDORS (partial listing)
Gowns & Tuxedos
Catering Services
Desserts/Bakers
Beauty
Anastasia's Crown Esthetic Services
Hair Hive
Entertainment/DJs
Tee Jay the DJ
Jewelry
Event Designers/Planners
Florists/Specialty Gifts/Baskets
Soul Purpose
Limousines/Party Coaches
SD Transit
Photo Booths
MANY MORE COMING!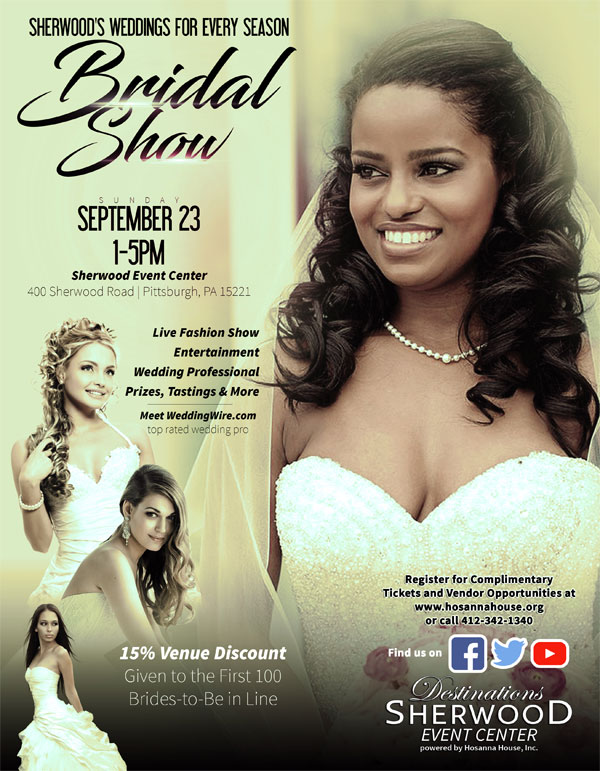 "Sherwood's Weddings
For Every Season"

Sunday, September 23, 2018
1:00 pm-5:00 pm.
The event will take place at our newly expanded
Sherwood Event Center
(400 Sherwood Rd, near Forest Hills).

15% Venue Discount
Given to the First 100 Brides-to-Be in Line

CLICK HERE TO REGISTER & RESERVE
YOUR COMPLIMENTARY TICKETS!

For more information call
412.342.1340

A Soul Blast from TheSoulPitt.com goes out to thousands and those that they pass it on to!
All Soul Blasts are also posted on ALL of Soul Pitt's social media sites at no additional charge.
To get a blast call 412.407.SOUL or email adsales@thesoulpitt.com

GET SOULcial with SOUL PITT!