Subject: #SoulBlast - Register for the Lincoln Lemington Community Walk on May 19th at 10AM
Share a lil' Soul with
your Social Networks!
#SoulBlast - Register for the Lincoln Lemington Community Walk on May 19th at 10AM

Forward to Friends Past Soul Blasts View Online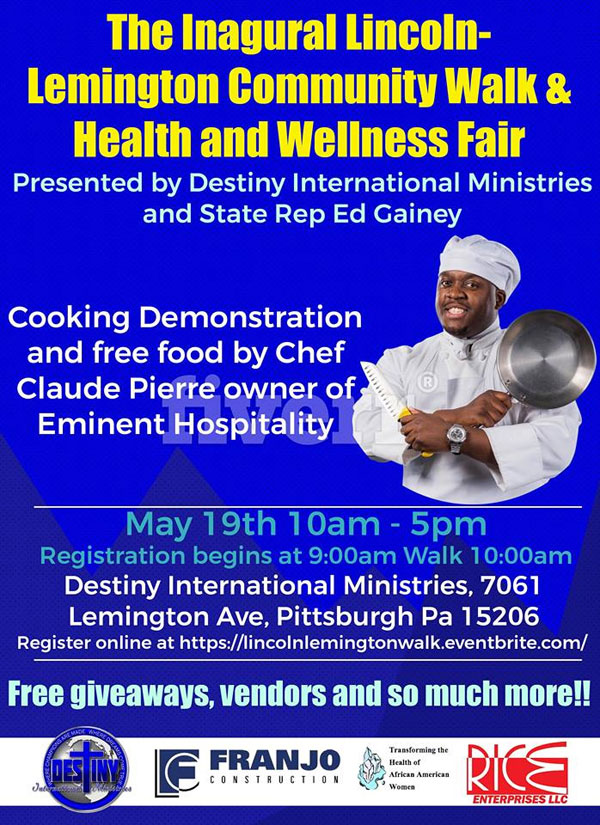 May 19th, 2018 at 10AM
Destiny International Ministries
and
State Rep Ed Gainey
will be bringing the
1st Annual Lincoln Lemington Community
Walk and Health and Wellness Fair.

The walk will start at the Churchland side of Destiny International Ministries then around to Paulson Ave, then to Dreary and back around. After the walk we will be holding a cooking demonstration by Chef Claude Pierre, who will teach how to prepare healthy quick simple and cost effective meals!


Vendors will be
East Liberty Family Health Care Center, Adaigo Health Mammogram Voucher Program, Bridgeway Capital, THAW Inc, and many more.


Activities will be "Yoga in the Lawn", BoxAerobics, and more! Our goal is to spread the message about how to love a healthy lifestyle to decrease health issues that impact our community as well as share information on access to free health services.


All are invited and it's free!
REGISTER ONLINE AT

A Soul Blast from TheSoulPitt.com goes out to thousands and those that they pass it on to!
All Soul Blasts are also posted on ALL of Soul Pitt's social media sites at no additional charge.
To get a blast call 412.407.SOUL or email adsales@thesoulpitt.com

GET SOULcial with SOUL PITT!