Subject: #SoulBlast - Redistricting Town Hall Scheduled for Thursday, May 24th at The Pittsburgh Theological Seminary
Share a lil' Soul with
your Social Networks!
#SoulBlast - Redistricting Town Hall Scheduled for Thursday, May 24th at The Pittsburgh Theological Seminary

Forward to Friends Past Soul Blasts View Online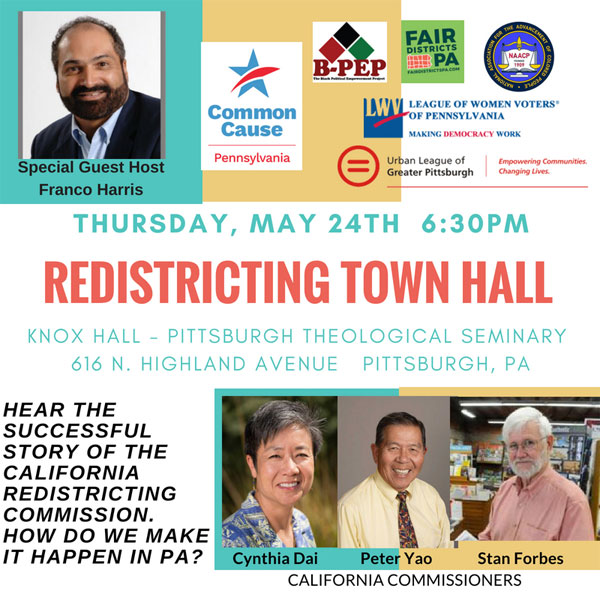 Common Cause of Pennsylvania is joining with Fair Districts PA, the Black Political Empowerment Project (B-PEP), the League of Women Voters of Pennsylvania, the NAACP Pittsburgh Unit, and the Urban League of Greater Pittsburgh are sponsoring a very important presentation on the ever expanding movement on the quest for 'fair districts' and the elimination of gerrymandering in the Commonwealth of Pennsylvania. Common Cause is helping to bring into Pittsburgh three state of California Commissioners, Cynthia Dai, Peter Yao and Stan Forbes to share with local Fair Districts PA enthusiasts how the state of California has begun to guarantee districts that are more free of gerrymandering than in the past, and are more fair in the lines that are drawn to create new districts going forward.


"The Redistricting Town Hall"
will take place on
THURSDAY, MAY 24, 2018 at 6:30 pm,
with doors opening at 6pm,
in the John Knox Room of the Pittsburgh Theological Seminary
located at 616 N. Highland Avenue (15206) in East Liberty
across from Obama Academy and close to Home Depot.


The focus of the conversation will be sharing the successful story of the California Redistricting Commission, and addressing the question of "How Do We Make it Happen in Pennsylvania". Pittsburgh Steeler Hall of Famer Franco Harris will be the special guest host for the evening. He helped host such an event back in 2016, and has maintained an interest in this important issue.



For information contact:
Micah Sims, the Executive Director of
Common Cause of Pennsylvania
at 412-520-5115/717-232-9951,

Kitsy McNulty, Coordinator,
Fair Districts PA - Pittsburgh
at 412-370-5857,

or Tim Stevens, Chairman & CEO,
the Black Political Empowerment Project (B-PEP)
at 412-758-7898.

A Soul Blast from TheSoulPitt.com goes out to thousands and those that they pass it on to!
All Soul Blasts are also posted on ALL of Soul Pitt's social media sites at no additional charge.
To get a blast call 412.407.SOUL or email adsales@thesoulpitt.com

GET SOULcial with SOUL PITT!