Subject: #SoulBlast - PPS presents "Construction, Coffee & Contracts" on Tue, April 16, 2019 | 8:30AM – 11:30AM
Share a lil' Soul with
your Social Networks!
#SoulBlast - PPS presents "Construction, Coffee & Contracts" on Tue, April 16, 2019 | 8:30AM – 11:30AM

Forward to Friends Past Soul Blasts View Online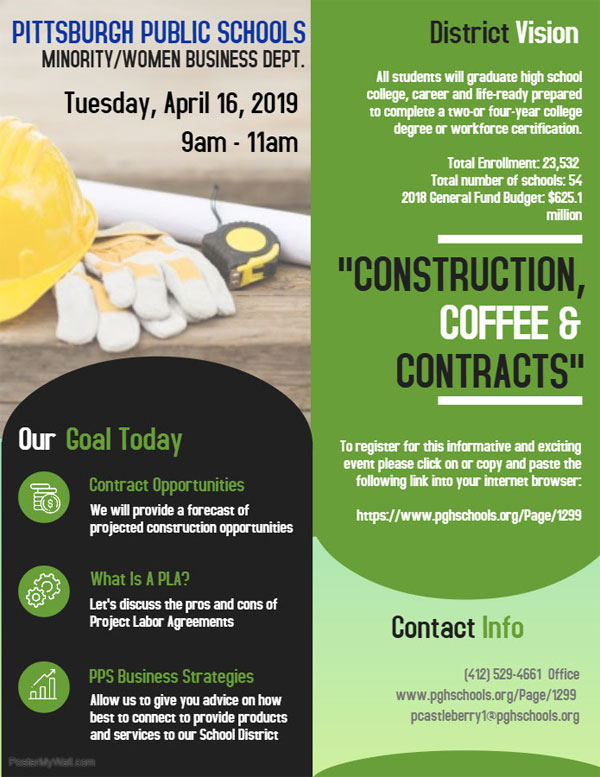 This Quarterly event is being brought to you by the Minority/Women Business Department of the Pittsburgh Public Schools. We would like to invite you to share in our discussion regarding best practices for securing contracts with the Pittsburgh Public Schools as well as identify upcoming contract opportunities. Meet our new Chief Operations Officer and members of our Board of Directors as we unpack what we know about Project Labor Agreements (PLAs). We would love to hear from you how they have or may impact your business.

A Soul Blast from TheSoulPitt.com goes out to thousands and those that they pass it on to!
All Soul Blasts are also posted on ALL of Soul Pitt's social media sites at no additional charge.
To get a blast call 412.407.SOUL or email adsales@thesoulpitt.com

GET SOULcial with SOUL PITT!