Subject: #SoulBlast - NABHI Christian Ministries Presents 2018 NCM Awards | Oct 5th at Rivers Club
Share a lil' Soul with
your Social Networks!
#SoulBlast - NABHI Christian Ministries Presents 2018 NCM Awards | Oct 5th at Rivers Club

Forward to Friends Past Soul Blasts View Online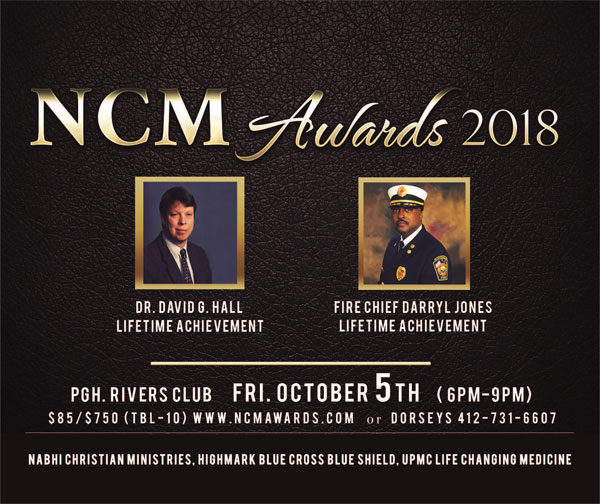 Friday, October 5, 2018 | 6:00 PM - 9:00 PM


@ Rivers Club Ballroom (One Oxford Ctr.)
301 Grant Street Pittsburgh, PA 15219


Dr. David G. Hall, MD, noted as one of the finest family physicians in Pittsburgh, was Voted one of Pittsburgh's Best Doctors by Best Doctors, Inc. for four years in a row. He is the founding physician and Medical Director of East Liberty Family Health Care Center (ELFHCC).


Chief Darryl E. Jones, PhD, CFO, EFO, the first African American appointed Chief of the Pittsburgh Bureau of Fire. He is responsible for the leadership of over 650 uniformed personnel and all operations of the Bureau.

Ticket donations are $85 per person,
or $750 for a table of 10.


Purchase ads and tickets online at
www.NCMAWARDS.com
or at Dorsey's Record Shop (412-731-6607)
A Soul Blast from TheSoulPitt.com goes out to thousands and those that they pass it on to!
All Soul Blasts are also posted on ALL of Soul Pitt's social media sites at no additional charge.
To get a blast call 412.407.SOUL or email adsales@thesoulpitt.com
GET SOULcial with SOUL PITT!