Subject: #SoulBlast - N-Motion's FINAL Smooth First Friday's Event on July 6th | Special Farewell Message
Share a lil' Soul with
your Social Networks!
#SoulBlast - N-Motion's FINAL Smooth First Friday's Event on July 6th | Special Farewell Message

Forward to Friends Past Soul Blasts View Online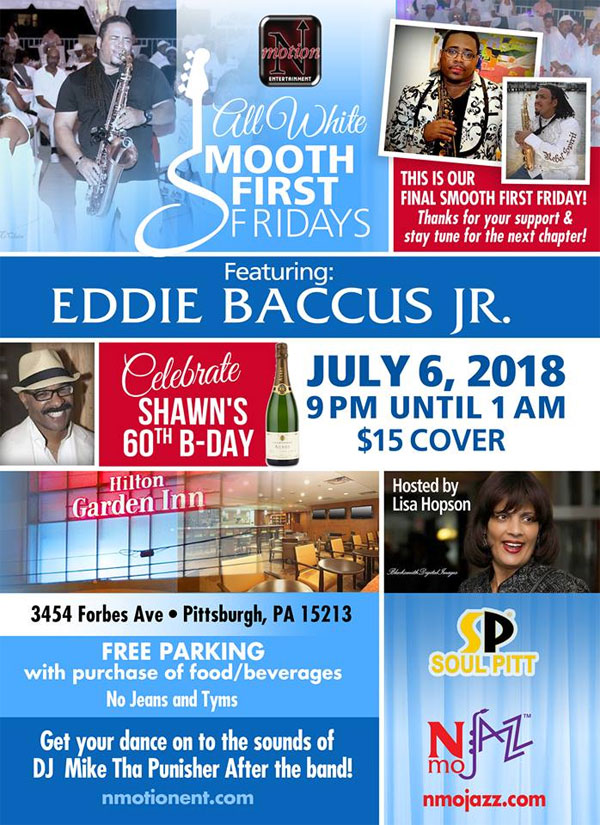 Folks, unfortunately the time has come for Smooth First Friday's to come to an end. The next Smooth First Friday's on July 6, will be our final Smooth First Friday's event.
It started back in the mid 90's at the Holiday Inn in Braddock Hills with my then partner in crime Louis (Rick) Harrell. Rick and and I came on the scene as Club Duo and we made an Impact with our Club Duo First Friday event. That lasted for several years and we had a great time creating the event that provided a great mature outlet for adults.
In 2006 I took the name of Club Duo after former partner Louis retired from the business. I started the Smooth Jazz Friday's with new partners Warren Wilson and Chaz Carter at the Holiday Inn University Center. We had 7 extremely successful years while the hotel was under the Holiday Inn title. In May of 2006 we were informed by the new proprietor, Wyndham Hotel that our Smooth First Friday's would end July of 2013.
After several years of inactivity, many former customers and friends suggested we start our First Friday back up, so in Oct of 2016 Smooth First Friday's was created by the current N-Motion Entertainment which was formed in 2009. N-Motion started the event at Hard Rock Cafe for about 6 - 7 months. It was great reconnecting with customers from previous years and events. From the Hard Rock we transitioned to Roland's in the Strip for several months and ultimately landing in current location the Hilton Garden Inn.
We have had great success providing an event that people looked forward to attending each month. We tried to provide the very best live entertainment at a price value We truly have enjoyed meeting and connecting with all the people over the years. That is really what kept the desire to keep the event going, people looking forward to the next month's event.
With July 6, being the final Smooth First Friday's we are asking everyone to come out and celebrate the many years of success and fun we have shared over the years at our First Friday's. This will also be my 60th birthday party and I would love to share my born day with all of you! So please, you are all personally invited to attend my 60th birthday at Smooth First Friday's!
PLEASE WEAR YOUR FAVORITE ALL-WHITE OUTFIT!
The current members of N-Motion Entertainment including myself, wife Lisa, Terri Thomas, Gene Mikell, and John Smith would like to thank each and every one of you for your loyal and continued support over the years. We have enjoyed meeting and serving you over the years. Hopefully you found enjoyment at our events! The time has come for this event to fade to black, so thank you all again!

Stay tuned for the next chapter!
Shawn Hopson
N-Motion Entertainment



A Soul Blast from TheSoulPitt.com goes out to thousands and those that they pass it on to!
All Soul Blasts are also posted on ALL of Soul Pitt's social media sites at no additional charge.
To get a blast call 412.407.SOUL or email adsales@thesoulpitt.com

GET SOULcial with SOUL PITT!