Subject: #SoulBlast - Join Pittsburgh Black Nurses in Action for this NBNA Education Session at Eddie Merlot's on June 21
Share a lil' Soul with
your Social Networks!
#SoulBlast - Join Pittsburgh Black Nurses in Action for this NBNA Education Session at Eddie Merlot's on June 21

Forward to Friends Past Soul Blasts View Online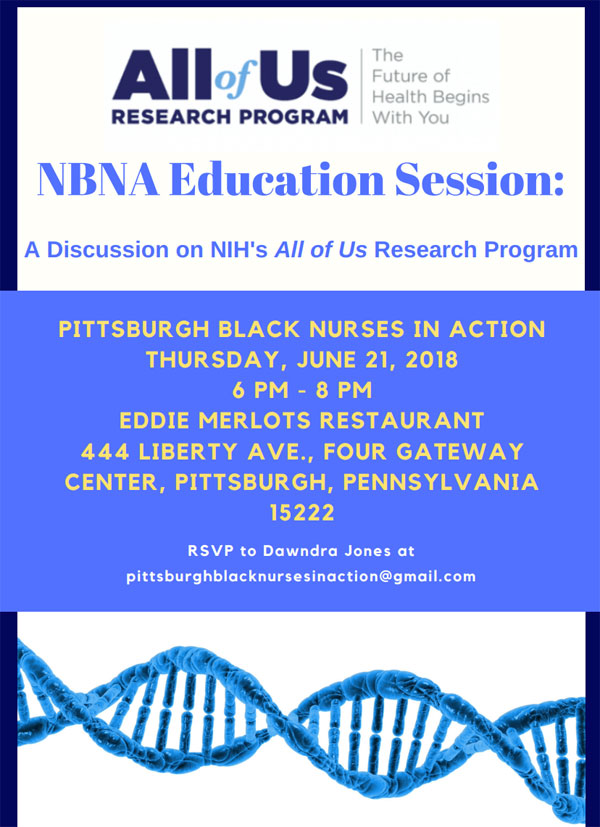 Join The
Pittsburgh Black Nurses in Action
Thursday, June 21 | 6-8 PM

For
The National Black Nurses Association (NBNA)
Education Session at Eddie Merlot's
A Discussion on
National Institutes of Health's (NIH)
All of Us Research Program

The All of Us Research Program is a historic effort to gather data from one million or more people living in the United States to accelerate research and improve health. By taking into account individual differences in lifestyle, environment, and biology, researchers will uncover paths toward delivering precision medicine.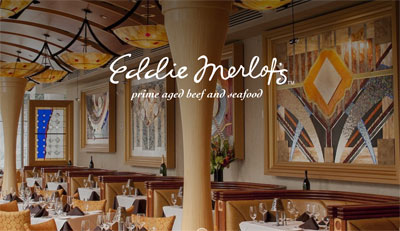 @ Eddie Merlot's
Prime Aged Beef and Seafood
Four Gateway Center,
444 Liberty Ave #100, Pittsburgh, PA 15222
RSVP to Dawndra Jones at
pittsburghblacknursesinaction@gmail.com
Pittsburgh Black Nurses in Action

CLICK HERE TO LIKE OUR FACEBOOK PAGE


About NBNA
The National Black Nurses Association (NBNA) was organized in 1971 under the leadership of Dr. Lauranne Sams, former Dean and Professor of Nursing, School of Nursing, Tuskegee University, Tuskegee, Alabama. NBNA is a non-profit organization incorporated on September 2, 1972 in the state of Ohio. NBNA represents 150,000 African American registered nurses, licensed vocational/practical nurses, nursing students and retired nurses from the USA, Eastern Caribbean and Africa, with 92 chartered chapters, in 35 states.
The National Black Nurses Association's mission is "to represent and provide a forum for Black nurses to advocate and implement strategies to ensure access to the highest quality of healthcare for persons of color".



A Soul Blast from TheSoulPitt.com goes out to thousands and those that they pass it on to!
All Soul Blasts are also posted on ALL of Soul Pitt's social media sites at no additional charge.
To get a blast call 412.407.SOUL or email adsales@thesoulpitt.com

GET SOULcial with SOUL PITT!