Subject: #SoulBlast - Job Opening at The Pittsburgh Foundation | Seeking FT Funds Manager
Share a lil' Soul with
your Social Networks!
#SoulBlast - Job Opening at The Pittsburgh Foundation | Seeking FT Funds Manager

Forward to Friends Past Soul Blasts View Online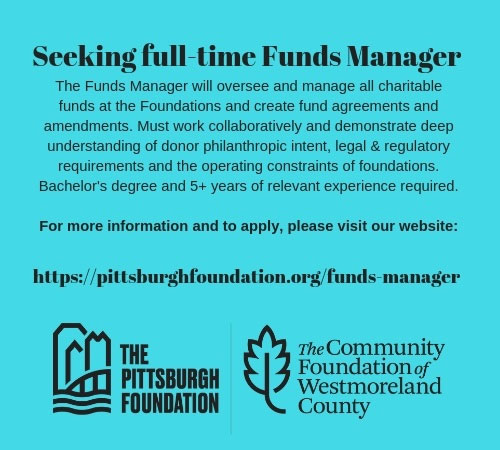 Position Status: Regular, Full-Time, Exempt
The Funds Manager is responsible for the oversight and management of all the charitable funds and related processes of the Foundation. These processes include fund agreement creation for new and planned gifts, generating amendments, validation and maintenance. To effectively manage the charitable funds of the Foundation, the Funds Manager must work collaboratively across the multiple departments and constituents with deep understanding of the donors' philanthropic intent, legal and regulatory requirements and the operating constraints of the Foundation.

A Soul Blast from TheSoulPitt.com goes out to thousands and those that they pass it on to!
All Soul Blasts are also posted on ALL of Soul Pitt's social media sites at no additional charge.
To get a blast call 412.407.SOUL or email adsales@thesoulpitt.com

GET SOULcial with SOUL PITT!