Subject: #SoulBlast - Jess Hilarious Spring Comedy Explosion, April 20th
Share a lil' Soul with
your Social Networks!
#SoulBlast - Jess Hilarious Spring Comedy Explosion, April 20th

Forward to Friends Past Soul Blasts View Online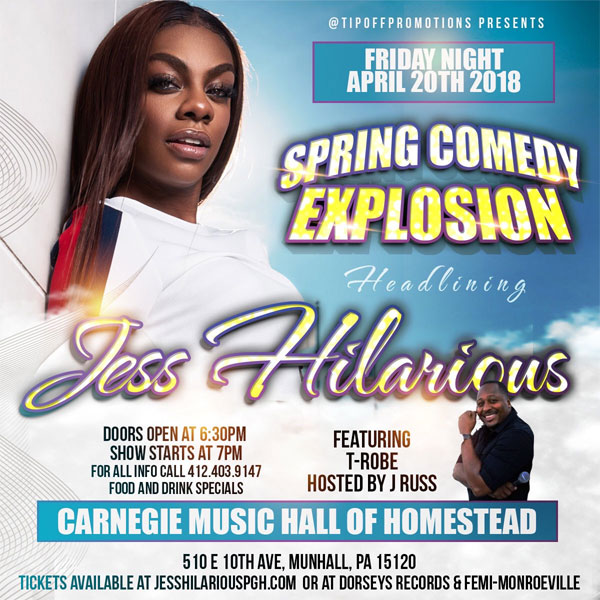 One of the hottest comedians in the nation, Jess Hilarious is headlining the Spring Comedy Explosion on April 20th at Carnegie Music Hall of Homestead. This epic event will be hosted by J Russ and feature T Robe


Doors open at 6:30pm / Show starts at 7pm
Location: 510 E 10th Ave. Homestead, PA 15120
Get your tickets online at JessHilariousPGH.com
or at Dorseys Records, Aliya Wrays or FEMI-Monroeville Mall

Food and Cocktails will be served!
Follow @TipoffPromotions on IG for all updates
A Soul Blast from TheSoulPitt.com goes out to thousands and those that they pass it on to!
All Soul Blasts are also posted on ALL of Soul Pitt's social media sites at no additional charge.
To get a blast call 412.407.SOUL or email adsales@thesoulpitt.com
GET SOULcial with SOUL PITT!