Subject: #SoulBlast - "In Good Health" Oct 3, 6PM at Mansions on Fifth for Healthcare Professionals Seeking High-level Advancement
Share a lil' Soul with
your Social Networks!
#SoulBlast - "In Good Health" Oct 3, 6PM at Mansions on Fifth for Healthcare Professionals Seeking High-level Advancement

Forward to Friends Past Soul Blasts View Online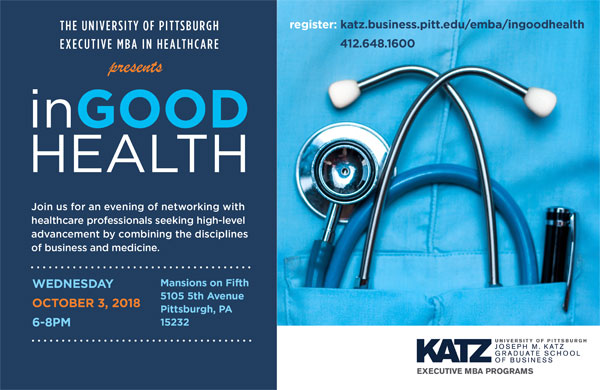 The University of Pittsburgh
Executive MBA in Healthcare presents
"In Good Health"
Wednesday, October 3, 6PM-8PM
at Mansions on Fifth

Join us for an Evening of Networking with Healthcare
Professionals seeking high-level advancement by combining the disciplines of business and medicine.

RSVP by September 28, 2018
to reserve your spot!
Click Here to Register

or call 412.648.1600

A Soul Blast from TheSoulPitt.com goes out to thousands and those that they pass it on to!
All Soul Blasts are also posted on ALL of Soul Pitt's social media sites at no additional charge.
To get a blast call 412.407.SOUL or email adsales@thesoulpitt.com

GET SOULcial with SOUL PITT!