Subject: #SoulBlast - I ❤️ Sundayz Vibez feat. Bill Henry Band and DJ Selecta @ Metropolitan Club | June 2
Share a lil' Soul with
your Social Networks!
#SoulBlast - I ❤️ Sundayz Vibez feat. Bill Henry Band and DJ Selecta @ Metropolitan Club | June 2

Forward to Friends Past Soul Blasts View Online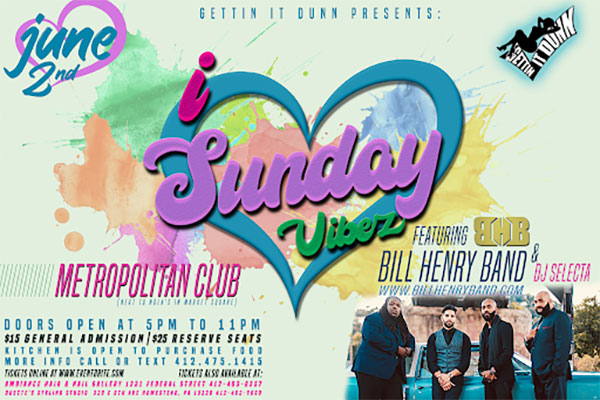 I ❤️ Sundayz Vibez
Featuring
Bill Henry Band
and DJ Selecta

@ Metropolitan Club
(Next to Nola's in Market Square)
25 Market Street | Pittsburgh, PA 15222
Sunday, June 2, 2019
Doors open at 5pm to 11pm

Kitchen is open to purchase food.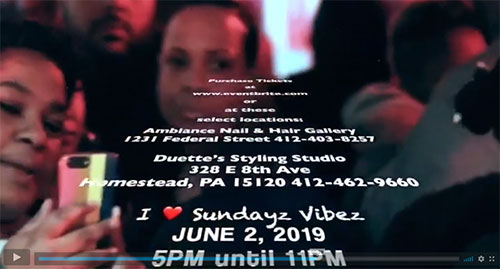 https://vimeo.com/337664439

Advance Ticket Sales:
$15 general admission
$20 reserve seats
Ticket Locations:
For more info call or text 412.475.1415
Ticket locations: Eventbrite.com
Ambiance Nail & Hair Gallery
1231 Federal Street 412-403-8257
Duette's Styling Studio
328 E 8th Avenue
Homestead, PA 15120 412-462-9660
Enter to Win 2 Tickets to this Event!
Winners will be contacted by Danielle from Gettin' it Dunn

A Soul Blast from TheSoulPitt.com goes out to thousands and those that they pass it on to!
All Soul Blasts are also posted on ALL of Soul Pitt's social media sites at no additional charge.
To get a blast call 412.407.SOUL or email adsales@thesoulpitt.com

GET SOULcial with SOUL PITT!