Subject: #SoulBlast - Holiday Soul of Legends Tribute, Saturday, Dec 15th at AAMI
Share a lil' Soul with
your Social Networks!
#SoulBlast - Holiday Soul of Legends Tribute, Saturday, Dec 15th at AAMI

Forward to Friends Past Soul Blasts View Online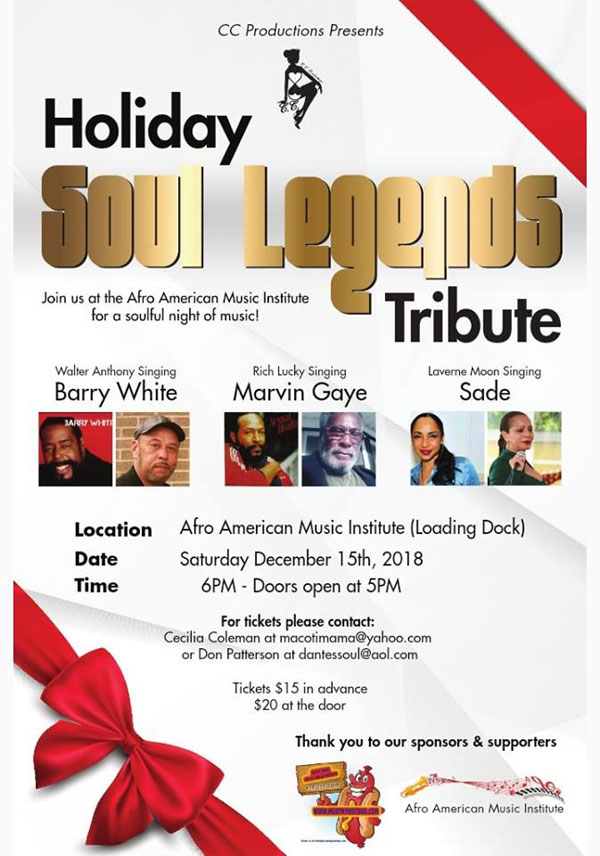 CC Community Productions LLC
Holiday Soul of Legends Tribute
Saturday, December 15, 2018 at 6 PM

@ Afro-American Music Institute
(at the Loading Dock)


Renowned singers celebrating
the Legacy of the Greatest Soul legends!
Barry White....Walter Anthony from Ohio
Marvin Gaye....Rich Lucky from Ohio
Sade....Laverne Moon from Pittsburgh
Don Patterson....Co Host
Tickets Available Now!
$15 in Advance | $20 at the Door
412-583-2649...... Cecilia Coleman
412-275-5888.....Don Patterson

A Soul Blast from TheSoulPitt.com goes out to thousands and those that they pass it on to!
All Soul Blasts are also posted on ALL of Soul Pitt's social media sites at no additional charge.
To get a blast call 412.407.SOUL or email adsales@thesoulpitt.com

GET SOULcial with SOUL PITT!