Subject: #SoulBlast - Hip-hop artist Chuck D joins Trayvon Martin's mother on panel at Cal U's 14th annual Hip-hop Conference April 25
Share a lil' Soul with
your Social Networks!
#SoulBlast - Hip-hop artist Chuck D joins Trayvon Martin's mother on panel at Cal U's 14th annual Hip-hop Conference April 25

Forward to Friends Past Soul Blasts View Online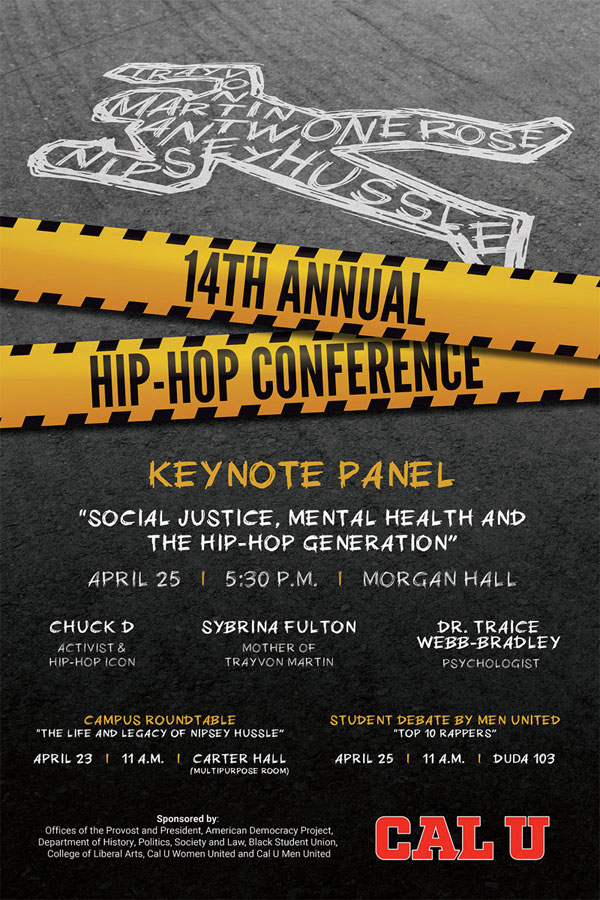 California University of Pennsylvania presents its 14th annual Hip-hop Conference April 25 (free & open to the public)
Hip-hop icon Chuck D, founder of the groundbreaking rap group Public Enemy, and
Sybrina Fulton, mother of the late Trayvon Martin, explore "Social Justice, Mental Health and the Hip-hop Generation" when Cal U hosts its 14th annual Hip-hop Conference.
Psychologist Dr. Traice Webb-Bradley joins the panel discussion at 5:30 p.m. April 25 in the Morgan Hall auditorium at California University of Pennsylvania. The public is invited.


About the speakers
Chuck D redefined hip-hop as one of America's most popular – and often controversial – art forms when he founded Public Enemy in the late 1980s. Albums including "It Takes a Nation of Millions to Hold Us Back" and "Fear of a Black Planet" established him as an uncompromising and articulate spokesman for social justice and the black community. Today, he performs with the supergroup Prophets of Rage, speaks at tech and music conferences around the world, and continues to speak out about social justice issues.


Sybrina Fulton has dedicated her life to transforming grief into advocacy for social change. Her 17-year-old son, Trayvon Martin, was killed in a violent confrontation in 2012; his death and the subsequent trial ignited a national debate about violence, community safety and civil rights. Fulton, a Florida native, worked at the Miami-Dade County Housing Development Agency for more than 25 years. She is the co-author (with Tracy Martin) of a book, Rest in Power: The Enduring Life of Trayvon Martin.


Dr. Traice Webb-Bradley is a licensed clinical psychologist and a national psychologist peer reviewer and subject matter expert for Optum Health Behavioral Solutions (formerly United Behavioral Health). In clinical practice, she has a special interest in working with people of color and women regarding trauma, identity and sexuality issues. She volunteers with The Swan Within, a nonprofit organization that teaches therapeutic ballet to sex-trafficked, abused and neglected girls in the California detention system.


About the conference
Cal U's annual Hip-hop Conference is organized by Dr. Kelton Edmonds, a professor in the Department of History, Politics, Society and Law. Edmonds is a former director of the Frederick Douglass Institute at Cal U and program coordinator for the university's minor in African American Studies.
Each year the conference brings well-known hip-hop artists and activists to campus to explore the significance of hip-hop culture. Past conferences have focused on the genre's history and evolution; the criminal justice system; and sports, hip-hop and race.
Admission to Cal U's Hip-hop Conference is free; the public may attend. Metered parking for visitors is available in lots 11 and 17 on campus.



A Soul Blast from TheSoulPitt.com goes out to thousands and those that they pass it on to!
All Soul Blasts are also posted on ALL of Soul Pitt's social media sites at no additional charge.
To get a blast call 412.407.SOUL or email adsales@thesoulpitt.com

GET SOULcial with SOUL PITT!