Subject: #SoulBlast - Harambee Black Arts Festival | August 3, 4 & 5, 2018 in the Homewood Community
Share a lil' Soul with
your Social Networks!
#SoulBlast - Harambee Black Arts Festival | August 3, 4 & 5, 2018 in the Homewood Community

Forward to Friends Past Soul Blasts View Online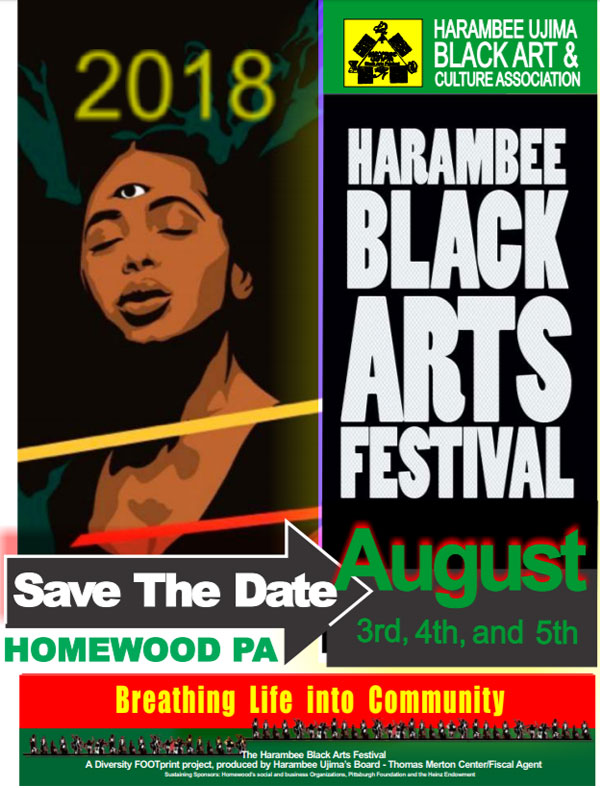 The Harambee Black Arts Festival
will be held on
August 3rd, 4th, and 5th, of 2018
in the
Homewood Community

The location will be in the 7100 block of Kelly Street, between N. Homewood and Lang Avenues and between Bennett Street and Hamilton Avenue.

The Harambee Ujima Art and Culture Association formed in 2001 to preserve the legacy of the "Black Arts" movement of the 1967 Harambee Black Arts Festival.

The festival employs the Arts to "Breathe Life" back into disenfranchised and under-served minority neighborhoods. As a community sponsored venture, contributions for the Art Festival from the neighborhood's non-profits, local businesses and community citizens over the past three years have helped to stimulate commerce and job growth for our participating artists.

A Soul Blast from TheSoulPitt.com goes out to thousands and those that they pass it on to!
All Soul Blasts are also posted on ALL of Soul Pitt's social media sites at no additional charge.
To get a blast call 412.407.SOUL or email adsales@thesoulpitt.com

GET SOULcial with SOUL PITT!