Subject: #SoulBlast - Get on Board the "Anchor's Aweigh Boat Ride" with Sigma Gamma Rho Sorority on 4/26
Share a lil' Soul with
your Social Networks!
#SoulBlast - Get on Board the "Anchor's Aweigh Boat Ride" with Sigma Gamma Rho Sorority on 4/26

Forward to Friends Past Soul Blasts View Online
Come KICK off the
76th Northeastern Regional Conference
with
Sigma Gamma Rho Sorority, Inc.
at our
Anchor's Aweigh Boat Ride
Thursday, April 26 | 9PM-12AM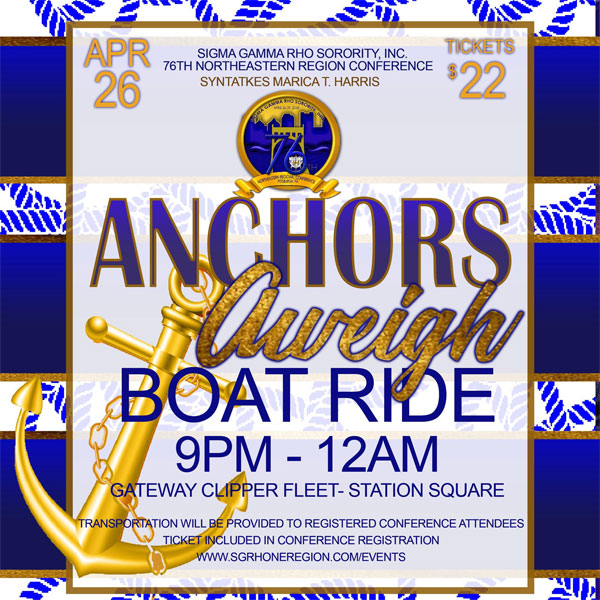 Join us on the Gateway Clipper as we listen to good music, socialize, and dance the night away!
The cost is $22 per person.


To purchase tickets for boat ride go to:
https://www.sgrhoneregion.com/event-2872113
For more information contact the
Pittsburgh Alumnae Chapter at
dps1922@gmail.com
or text (412) 453-6221

A Soul Blast from TheSoulPitt.com goes out to thousands and those that they pass it on to!
All Soul Blasts are also posted on ALL of Soul Pitt's social media sites at no additional charge.
To get a blast call 412.407.SOUL or email adsales@thesoulpitt.com

GET SOULcial with SOUL PITT!