Subject: #SoulBlast - Gateway Medical Society 2019 Physician of The Year Scholarship Gala | Saturday, Oct 26
Forward to Friends Past Soul Blasts View Online

#SoulBlast - Gateway Medical Society 2019 Physician of The Year Scholarship Gala | Saturday, Oct 26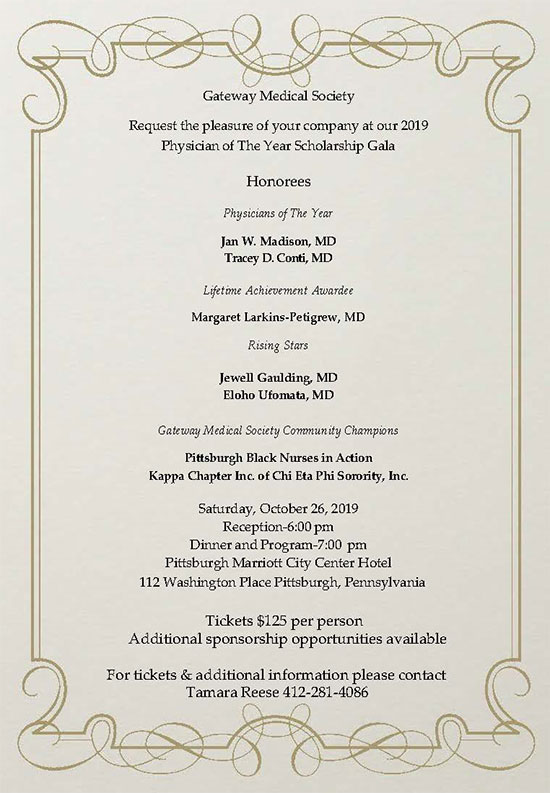 On Saturday, October 26th at the Pittsburgh Marriott City Center Hotel we will honor Tracey D. Conti, MD and Jan W. Madison, MD for their exemplary character, integrity and distinguished service to their patients and communities. Two community nursing organizations will be honored with the "Champions of Gateway Medical Society – Making a Difference" Award. This award recognizes their support to the Gateway Medical Society. The 2019 honorees are the Pittsburgh Black Nurses in Action and Kappa Chapter Inc., Chi Eta Phi Inc.
We will also honor Margaret Larkins-Pettigrew, MD, M.Ed, MPH with our Lifetime Achievement Award for her lifetime of service and advocacy to the community. Our Rising Star Award recognize physicians and health care professionals who are early to not yet quite mid-point in their careers and who have demonstrated leadership in the areas of community health, clinical excellence, and a commitment to addressing social determinants of health. This year our awardees are Jewell Gaulding, MD and Eloho Ufomata, MD.
Encouraging physicians of tomorrow is also a big part of Gateway Medical Society's mission. Many meritorious medical students from the University of Pittsburgh Medical School have received scholarships from the Gateway Medical Society. During the gala, scholarships will be awarded to outstanding under-represented medical students. To keep a continuous pipeline of students of color going to medical school, an award -winning academic mentorship program, 'Journey to Medicine' is administered by Gateway Medical Society to encourage the study of science, technology, engineering and math in boys from 6th grade to high school graduation. These youth will be acknowledged at our gala. Many participants subsequently choose to enter into the field of medicine and the allied health professions.
For tickets, call 412-281-4086
or email: administration@gatewaymedicalsociety.org

www.gatewaymedicalassociation.org

A Soul Blast from TheSoulPitt.com goes out to thousands and those that they pass it on to!
All Soul Blasts are also posted on ALL of Soul Pitt's social media sites at no additional charge.
To get a blast call 412.407.SOUL or email adsales@thesoulpitt.com

GET SOULcial with SOUL PITT!