Subject: #SoulBlast - Friday July 13! CJ's Grown & Sexy Summer Breeze Series with The Bill Henry Band at Room 16
Share a lil' Soul with
your Social Networks!
#SoulBlast - Friday July 13! CJ's Grown & Sexy Summer Breeze Series with The Bill Henry Band at Room 16

Forward to Friends Past Soul Blasts View Online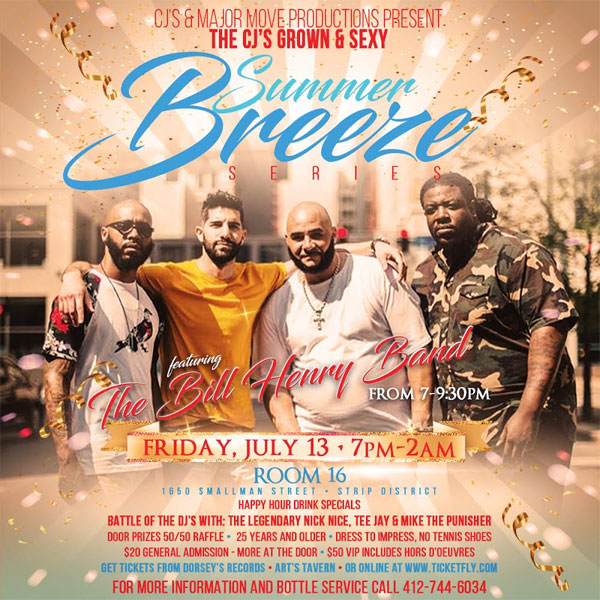 CJ'S & Major Moves Productions Presents
CJ'S GROWN & SEXY
SUMMER BREEZE SERIES
Featuring
THE BILL HENRY BAND
Friday July 13, 2018
Doors: 6:30 PM
Show: 7:00 PM (ends at 2:00 AM)
25+ Event with proper dress and ID required.

$20 General Admission at Door
$50 VIP, Includes Hors d'oeuvres

CLICK HERE FOR VIP TICKETS ONLINE


CLICK HERE FOR OUR FACEBOOK EVENT PAGE
@ ROOM 16
1650 Smallman St., Pittsburgh, PA 15222
For more info call
412.744.6034

A Soul Blast from TheSoulPitt.com goes out to thousands and those that they pass it on to!
All Soul Blasts are also posted on ALL of Soul Pitt's social media sites at no additional charge.
To get a blast call 412.407.SOUL or email adsales@thesoulpitt.com

GET SOULcial with SOUL PITT!