Subject: #SoulBlast - Focus on Young Men and Boys Symposium: OPIOIDS & VIOLENCE PREVENTION, October 18, 2018
Share a lil' Soul with
your Social Networks!
#SoulBlast - Focus on Young Men and Boys Symposium: OPIOIDS & VIOLENCE PREVENTION, October 18, 2018

Forward to Friends Past Soul Blasts View Online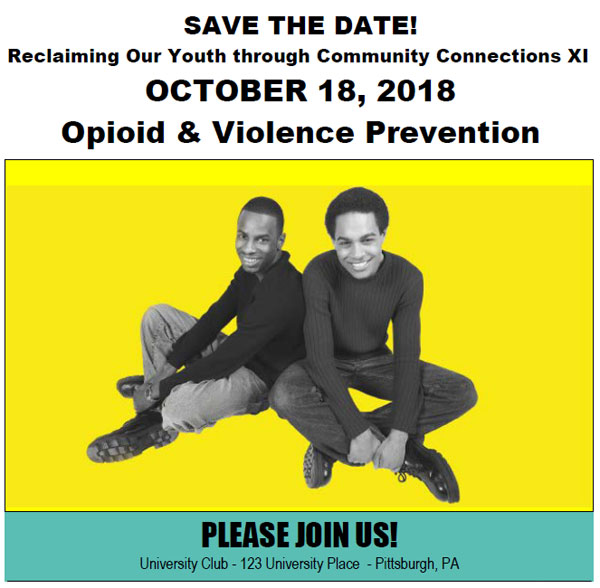 The killing of young African-American males is an epidemic. The health and wellness of our communities are at risk. Opioids are taking the lives of our young people too frequently. We must find some solutions to stop opioid use and gun violence. Your involvement is needed. Please join Educating Teens Inc., for Reclaiming Our Youth through Community Connections XI: Focus on Young Men and Boys Symposium: OPIOIDS & VIOLENCE PREVENTION, October 18, 2018. The Symposium will be held at the University Club, located at 123 University Place Pittsburgh, PA 15213.
The Symposium is designed to develop a comprehensive approach to assist this region's boys and young men in finding paths to safe and productive lives. Your participation will help to highlight the connected issues of various disparities, injustice, violence, education, and drug & alcohol abuse, and move us toward developing solutions.
We are asking for your support and your participation. Questions: Call 412-973-9524 or Email agraham-ellison@educatingteens.org.Thank you for your consideration.

A Soul Blast from TheSoulPitt.com goes out to thousands and those that they pass it on to!
All Soul Blasts are also posted on ALL of Soul Pitt's social media sites at no additional charge.
To get a blast call 412.407.SOUL or email adsales@thesoulpitt.com

GET SOULcial with SOUL PITT!