Subject: #SoulBlast - Eastminster's Annual Light-Up Night Celebration | Saturday, Dec 7th from 6-9PM
Forward to Friends Past Soul Blasts View Online

#SoulBlast - Eastminster's Annual Light-Up Night Celebration | Saturday, Dec 7th from 6-9PM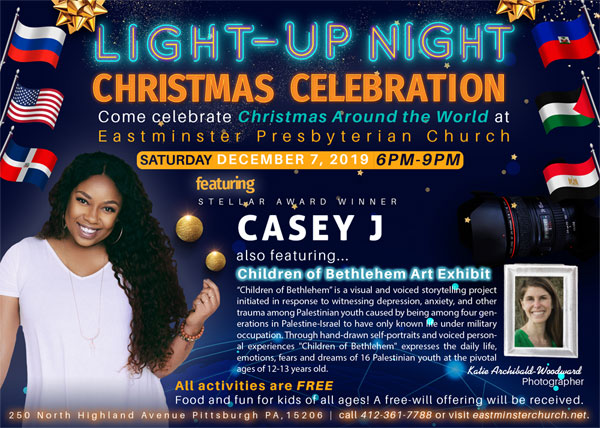 [Click above image for larger view]


Come celebrate Christmas Around the World
at Eastminster Presbyterian Church's
Annual Light-Up Night Celebration

On Saturday, December 7th
from 6-9 PM at the church,
Located at 250 North Highland Avenue,
Pittsburgh, PA 15206 in Pittsburgh's East End.

The concert will feature Stellar Award-winning recording artist/ worship leader Casey J, Nikki Porter and the Eastminster Praise Team and a Christmas sing-along led by Dr. Nemesio Valle, III and the Eastminster Quartet. Photographer Katie Archibald-Woodward and the Children of Bethlehem exhibition as well as Eastminster's own Christmas Around the World art exhibit will be on display in our fellowship hall. There will be lots of food and fun for kids of all ages! All activities are free. A free-will offering will be received during the concert.
For details, call 412-361-7788
or visit eastminsterchurch.net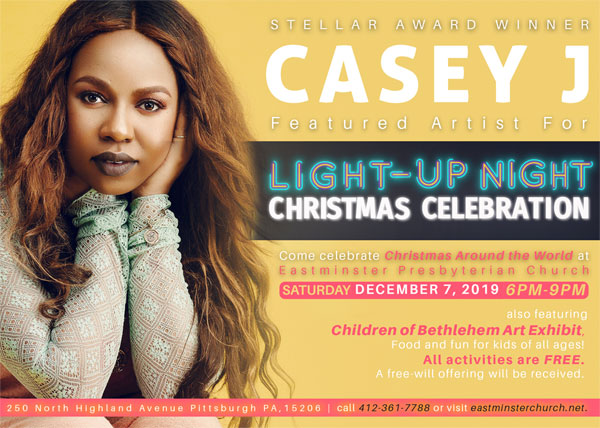 [Click above image for larger view]
CASEY J is a native of Atlanta, GA. After working for several years as an elementary school teacher, Casey accepted God's call and began to pursue ministry through music full- time. In 2015, Casey J recorded her freshman project entitled "The Truth" (Tyscot Records/MBE), a collection of songs with corporate worship at their core. The lead single from this project, "Fill Me Up", earned massive traction and ranked high on several national charts. Subsequently, "I'm Yours", written by Casey, followed with similar success and propelled her to a Stellar Award win for New Artist of the Year in 2016. It marks the first time in the history of the Billboard Gospel Airplay chart that any artist's debut album has spawned two number one songs on the survey! In January 2019, Casey J released a brand-new worship project entitled "The Gathering" (Tyscot Records/Casey J).
Visit www.caseyjmusic.com to learn more!
CHILDREN OF BETHLEHEM is a visual and voiced storytelling project initiated in response to witnessing depression, anxiety, and other trauma among Palestinian youth caused by being among four generations in Palestine-Israel to have only known life under military occupation. Through hand-drawn self-portraits and voiced personal experiences "Children of Bethlehem" expresses the daily life, emotions, fears and dreams of 16 Palestinian youth at the pivotal ages of 12-13 years old. Visit www.life-illuminated-travel.org/children-of-bethlehem for more info.


A Soul Blast from TheSoulPitt.com goes out to thousands and those that they pass it on to!
All Soul Blasts are also posted on Soul Pitt's social media sites at no additional charge.
To get a blast call 412.407.SOUL or email adsales@thesoulpitt.com

GET SOULcial with SOUL PITT!