Subject: #SoulBlast - EMSDC | Support Future Generations & Play Golf
Share a lil' Soul with
your Social Networks!
#SoulBlast - EMSDC | Support Future Generations & Play Golf

Forward to Friends Past Soul Blasts View Online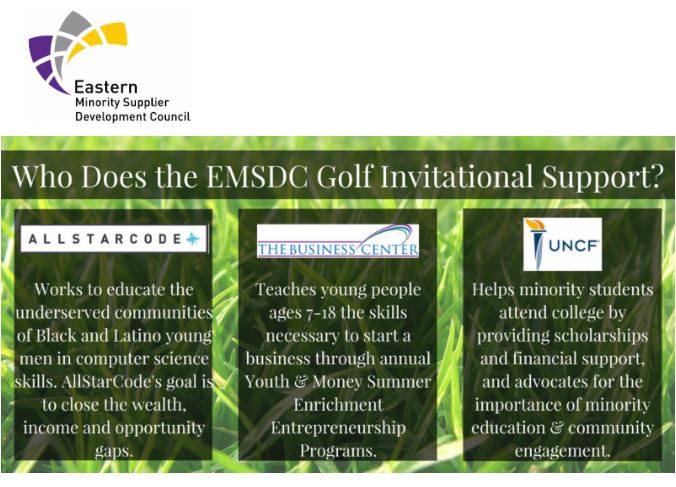 We've shared key details about our annual Youth Entrepreneur Scholarship Golf Invitational this July 23 at Fox Chapel Golf Club in Pittsburgh – but we haven't told you who it benefits. True to its name, the Invitational supports youth business and education organizations that work to set the next generation of minority students up for success.
AllStarCode works to broaden the landscape of computer science professionals by educating Black and Latino young men in business practices, technology skills and entrepreneurial techniques. The Business Center provides the education and business networking programs necessary to improve Northwest Philadelphia's minority business ecosystem. The organization's annual Summer Enrichment Programs set future generations up for success by teaching young people ages 7-18 the skills necessary to succeed as entrepreneurs. And as the nation's largest and most effective minority education organization, UNCF provides scholarship and financial aid to minority students. In the past seven decades, the organization has raised $4.8 billion and helped more than 450,000 minority students attend college. Additionally, UNCF is the nation's leading advocate for the importance of minority education and community engagement.
Our annual Golf Invitational also supports the ongoing fund for certified MBEs to attend advanced education training programs at Tuck School of Business at Dartmouth College, Kellogg School of Management at Northwestern University, and Foster School of Business at the University of Washington.
To recap: we've got golf, an NFL Hall of Famer, a golf clinic, and great causes. That said, we look forward to seeing you on the green on July 23rd!
Don't miss our Silent Auction!
As always, there's more to our Golf Outing than just perfecting your swing. We have a host of incredible auction items, but we could use a few more getaways, gift certificates, gift baskets, tickets to sporting events or concerts, area attractions, and more to auction off. Have an item to donate? Download and fill out the contribution form here and send it into Meg Markley at mmarkley@emsdc.org.
Meanwhile, thanks to our partner the American Fundraising Foundation (AmFund), we're auctioning off NINE incredible, airfare-inclusive luxury vacations.

Today's Reveal…

A Soul Blast from TheSoulPitt.com goes out to thousands and those that they pass it on to!
All Soul Blasts are also posted on ALL of Soul Pitt's social media sites at no additional charge.
To get a blast call 412.407.SOUL or email adsales@thesoulpitt.com

GET SOULcial with SOUL PITT!