Subject: #SoulBlast - Derrell Lawrence's Stage Play THE FUNERAL, Fri, Nov 9 @ August Wilson Center
Share a lil' Soul with
your Social Networks!
#SoulBlast - Derrell Lawrence's Stage Play THE FUNERAL, Fri, Nov 9 @ August Wilson Center

Forward to Friends Past Soul Blasts View Online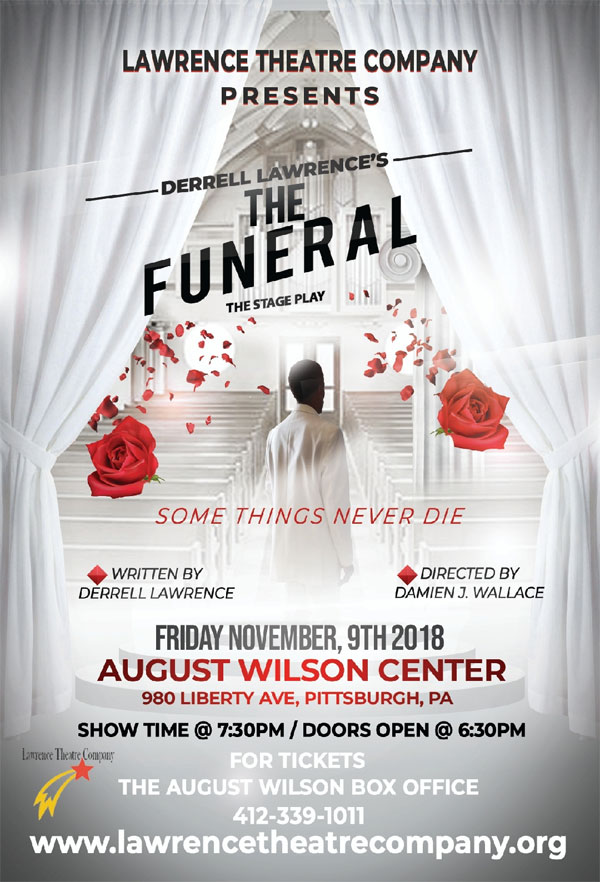 The Lawrence Theatre Company Presents
Derrell Lawrence's HIT Stage Play
"THE FUNERAL"
Fri, Nov 9, 2018, 7:30 PM
@ August Wilson Center
THE FUNERAL is a phenomenal play,
written and produced by the award winning Derrell Lawrence.
The funeral takes a realistic look at what happens when a family member passes away. These topics affect many families, but are not talked about. With the loss of a loved one comes the struggle of planning a funeral while filled with a host of emotions. Jasper Norman Williams Sr. is gone and now the secrets, lies and conflicts seem to be replacing him.

The lies create questions, anger, hurt and shame for some of the members of the Williams family. Will they be able to recover as a family and as individuals? Will the deception break up the family permanently and leave them with scars too deep to come back from? The funeral will take you on a roller coaster ride of emotions.




CLICK HERE TO PURCHASE TICKETS
Or Call 412-339-1011 For Tickets/Details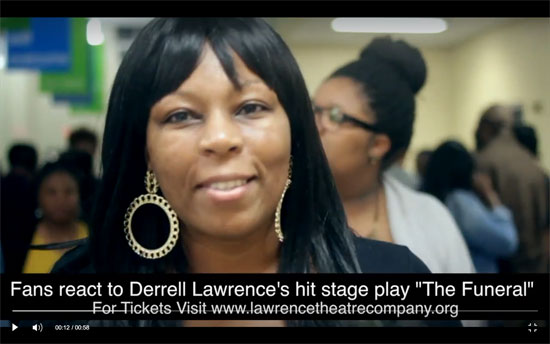 Click here to watch fans reaction
to the hit stage play "The Funeral"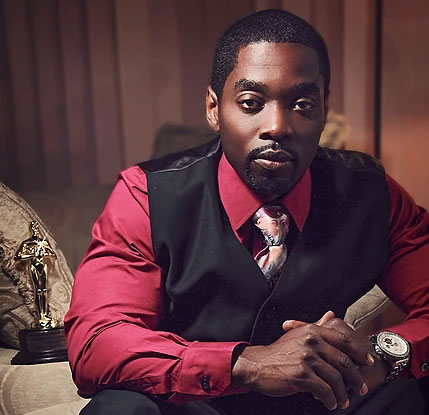 Derrell Lawrence is an American actor, filmmaker, writer, director, executive producer and upcoming author. He is perhaps best known for his feature film debut, Life Isn't Fair. in 2007. He earned several awards including, "The Highest Achievement for New Filmmaker" at the Jokara-Micheaux Film Festival, as well as both "The Silver Award" and "The People's Choice Award" from the Philadelphia International Film Festival and Market for Life Isn't Fair.
CLICK HERE FOR MORE ON DARRELL LAWRENCE



@ August Wilson Center
for African American Culture
980 Liberty Ave, Pittsburgh, PA 15222


CLICK HERE TO PURCHASE TICKETS
Or Call 412-339-1011 For Tickets/Details

Visit www.LawrenceTheatreCompany.org
for more details about the play and theatre Company.

A Soul Blast from TheSoulPitt.com goes out to thousands and those that they pass it on to!
All Soul Blasts are also posted on ALL of Soul Pitt's social media sites at no additional charge.
To get a blast call 412.407.SOUL or email adsales@thesoulpitt.com

GET SOULcial with SOUL PITT!