Subject: #SoulBlast - City of Pittsburgh Women-Owned Business Enterprise Event | Thursday, March 8th from 9am to 3pm
Share a lil' Soul with
your Social Networks!
#SoulBlast - City of Pittsburgh Women-Owned Business Enterprise Event | Thursday, March 8th from 9am to 3pm

Forward to Friends Past Soul Blasts View Online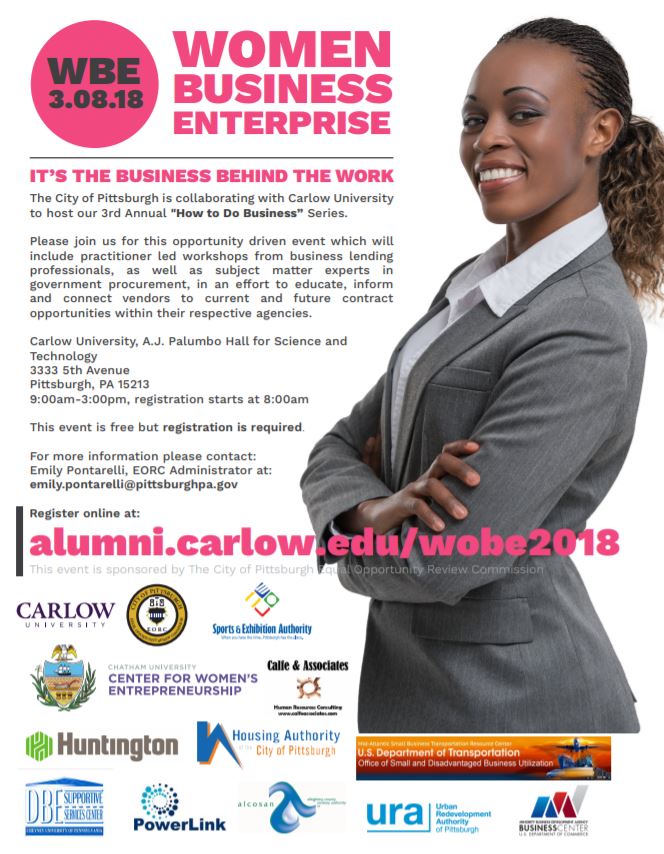 The City of Pittsburgh is collaborating with Carlow University
to host our 3rd Annual "How to Do Business" Series.
Please join us for this opportunity driven event which will include practitioner led workshops from business lending professionals, as well as subject matter experts in government procurement, in an effort to educate, inform and connect vendors to current and future contract opportunities within their respective agencies.
Carlow University, A.J. Palumbo Hall for Science and Technology
3333 5th Avenue, Pittsburgh, PA 15213
9:00am - 3:00pm, registration starts at 8:00am
This event is free but registration is required.
For more information please contact:
Emily Pontarelli, EORC Administrator at: emily.pontarelli@pittsburghpa.gov
A Soul Blast from TheSoulPitt.com goes out to thousands and those that they pass it on to!
All Soul Blasts are also posted on ALL of Soul Pitt's social media sites at no additional charge.
To get a blast call 412.407.SOUL or email adsales@thesoulpitt.com
GET SOULcial with SOUL PITT!