Subject: #SoulBlast - Call B-PEP's "ROLL TO THE POLLS" to Get Out and Vote! Tuesday, May 21, 2019
Share a lil' Soul with
your Social Networks!
#SoulBlast - Call B-PEP's "ROLL TO THE POLLS" to Get Out and Vote! Tuesday, May 21, 2019

Forward to Friends Past Soul Blasts View Online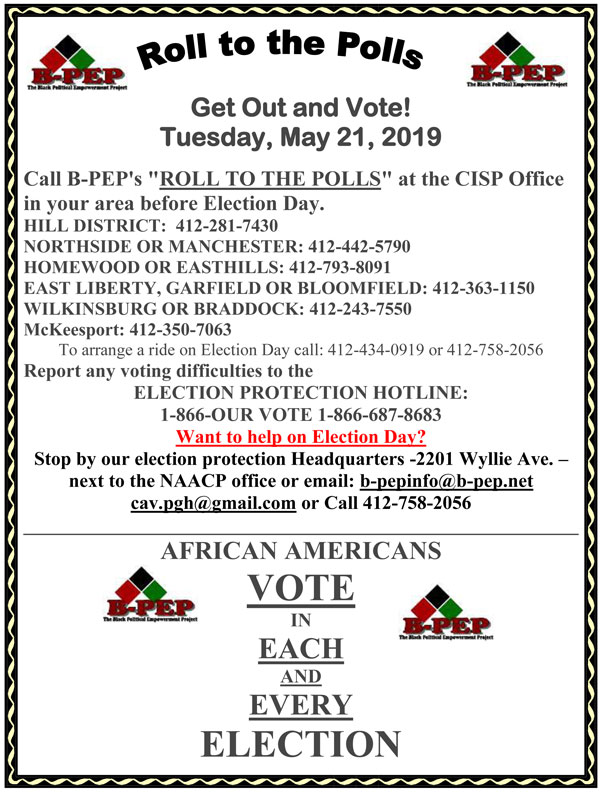 Call B-PEP's "ROLL TO THE POLLS"
at the CISP Office in your area
before Election Day.

HILL DISTRICT: 412-281-7430
NORTHSIDE OR MANCHESTER: 412-442-5790
HOMEWOOD OR EAST HILLS: 412-793-8091
EAST LIBERTY, GARFIELD OR BLOOMFIELD: 412-363-1150
WILKINSBURG OR BRADDOCK: 412-243-7550
MCKEESPORT: 412-350-7063

To arrange a ride on Election Day call:
412-434-0919 or 412-758-2056

A Soul Blast from TheSoulPitt.com goes out to thousands and those that they pass it on to!
All Soul Blasts are also posted on ALL of Soul Pitt's social media sites at no additional charge.
To get a blast call 412.407.SOUL or email adsales@thesoulpitt.com

GET SOULcial with SOUL PITT!