Subject: #SoulBlast - CEIR Implicit Bias Training on Thu, Sept 20, 2018 at 8:30 AM @ Duquesne University Power
Share a lil' Soul with
your Social Networks!
#SoulBlast - CEIR Implicit Bias Training on Thu, Sept 20, 2018 at 8:30 AM @ Duquesne University Power

Forward to Friends Past Soul Blasts View Online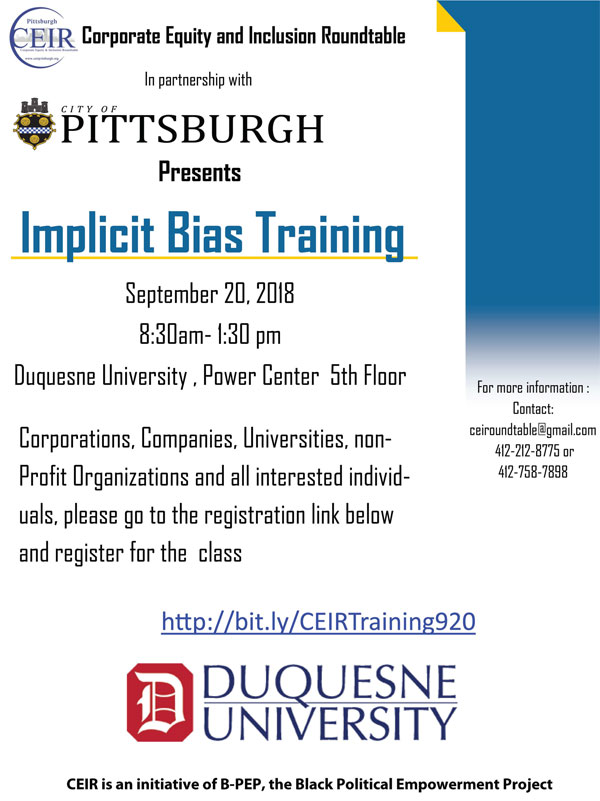 Corporate Equity and Inclusion Roundtable,
in partnership with the City of Pittsburgh, presents
Implicit Bias Training


Thursday, September 20, 2018
8:30am - 1:30pm


Leaders of corporations, non-profit organizations, universities, and all interested individuals are invited to this free training session.
To register, go to http://bit.ly/CEIRTraining920

For more information contact:
ceiroundtable@gmail.com
412-212-8775 or 412-758-7898

A Soul Blast from TheSoulPitt.com goes out to thousands and those that they pass it on to!
All Soul Blasts are also posted on ALL of Soul Pitt's social media sites at no additional charge.
To get a blast call 412.407.SOUL or email adsales@thesoulpitt.com

GET SOULcial with SOUL PITT!