Subject: #SoulBlast - CC's Mother's Day Fashion Show Extravaganza! May 12th at Sherwood Events Center
Share a lil' Soul with
your Social Networks!
#SoulBlast - CC's Mother's Day Fashion Show Extravaganza! May 12th at Sherwood Events Center

Forward to Friends Past Soul Blasts View Online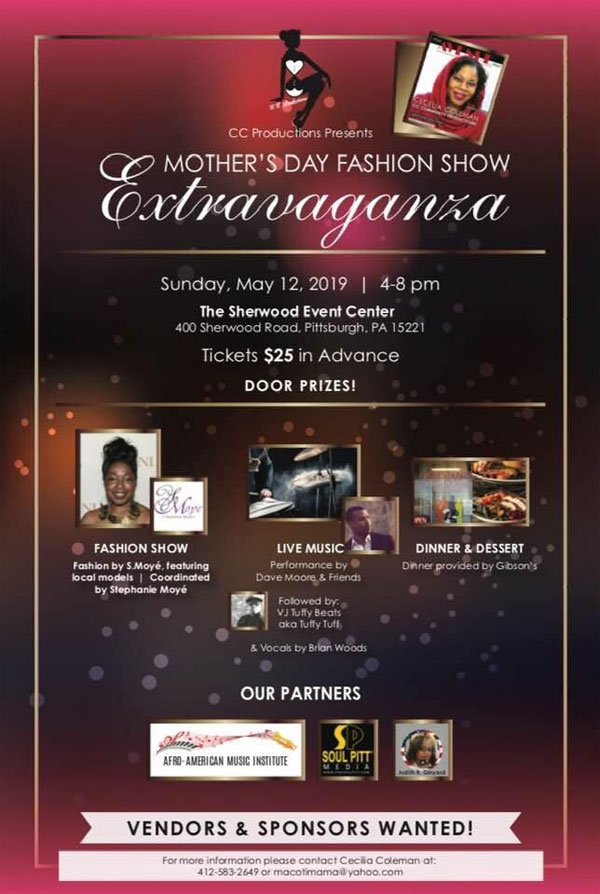 CC's Productions Presents
Mother's Day
Fashion Show Extravaganza

Sunday, May 12, 2019 | 4PM to 8PM

Fashion Show:

Fashion by S. Moye' featuring local models
Coordinated by Stephanie Moye'

Live Music:

Performance by Dave Moore & Friends |
VJ Tuff Beats aka Tuffy Tuff | Vocals by Brian Woods

Dinner & Dessert:
Dinner Provided by Gibson's
@ Sherwood Event Center (Near WTAE)
400 Sherwood Road, Wilkinsburg, PA 15221
VENDORS & SPONSORS WANTED!

Tickets $25 in Advance | Door Prizes!


For Tickets or More Information Contact:
Cecilia Coleman 412.583.2649
or email macotimama@yahoo.com



A Soul Blast from TheSoulPitt.com goes out to thousands and those that they pass it on to!
All Soul Blasts are also posted on ALL of Soul Pitt's social media sites at no additional charge.
To get a blast call 412.407.SOUL or email adsales@thesoulpitt.com
GET SOULcial with SOUL PITT!