Subject: #SoulBlast - CALL FOR VENDORS! Shop at the Pop Up Mall in Homewood on Dec 1st, 2018, 9AM to 4PM
Share a lil' Soul with
your Social Networks!
#SoulBlast - CALL FOR VENDORS! Shop at the Pop Up Mall in Homewood on Dec 1st, 2018, 9AM to 4PM

Forward to Friends Past Soul Blasts View Online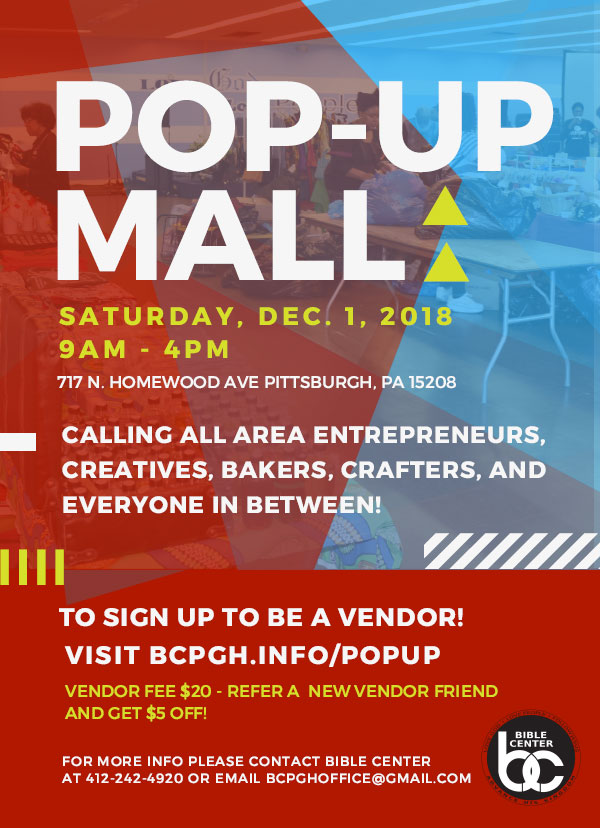 CALLING ALL AREA ENTREPRENEURS,
CREATIVES, BAKERS, CRAFTERS, AND
EVERYONE IN BETWEEN!


TO SIGN UP TO BE A VENDOR!
VISIT BCPGH.INFO/POPUP
Vendor Fee $20 - Refer A New Vendor Friend
And Get $5 Off!
For more info please contact Bible Center @
412-242-4920
Or Email bcpghoffice@gmail.com

A Soul Blast from TheSoulPitt.com goes out to thousands and those that they pass it on to!
All Soul Blasts are also posted on ALL of Soul Pitt's social media sites at no additional charge.
To get a blast call 412.407.SOUL or email adsales@thesoulpitt.com

GET SOULcial with SOUL PITT!