Subject: #SoulBlast - Are YOU a Reflection of the Soul Pitt Community? | Take Our Survey
Share a lil' Soul with
your Social Networks!
#SoulBlast - Are YOU a Reflection of the Soul Pitt Community? | Take Our Survey

Forward to Friends Past Soul Blasts View Online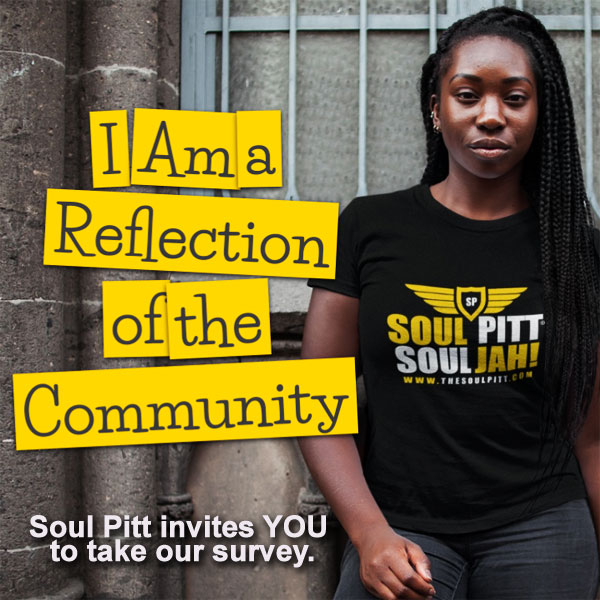 "I Am a Reflection of the Community"

This quote by Tupac also has another meaning for us at Soul Pitt.

Our Soul Pitt community was shaped into what it is today by our audience that is made up of a diverse group of people. A few years ago, our stats showed that at its core, the Soul Pitt community consisted of a large African-American female audience and was also one that was mature with a big percentage over 35 years old.
Now it's time again for us to get to know more about YOU, so we can know more about our community!
As a loyal Soul Blast subscriber, Soul Pitt invites you to take our survey.
Why, you ask?
You make up the heart & soul of our community.

Your input will help us to improve and better serve the community.

Your responses will help us make our website and magazine a better experience for all.

We would be incredibly thankful!
And if you choose to, at the end of the survey you can enter your email to be included into a drawing for cool prizes!
This survey will be online until Friday, August 3, 2018.
Thank you in advance for your feedback. Your opinion matters.
If you have any questions about our survey please feel free to contact me personally.

Donna Baxter Porcher
Founder/CEO
Soul Pitt Media, LLC.
soulsis@thesoulpitt.com

A Soul Blast from TheSoulPitt.com goes out to thousands and those that they pass it on to!
All Soul Blasts are also posted on ALL of Soul Pitt's social media sites at no additional charge.
To get a blast call 412.407.SOUL or email adsales@thesoulpitt.com

GET SOULcial with SOUL PITT!