Subject: #SoulBlast - An Evening with NAJEE on Sept 6, 7PM at Manchester Craftsmen's Guild
Share a lil' Soul with
your Social Networks!
#SoulBlast - An Evening with NAJEE on Sept 6, 7PM at Manchester Craftsmen's Guild

Forward to Friends Past Soul Blasts View Online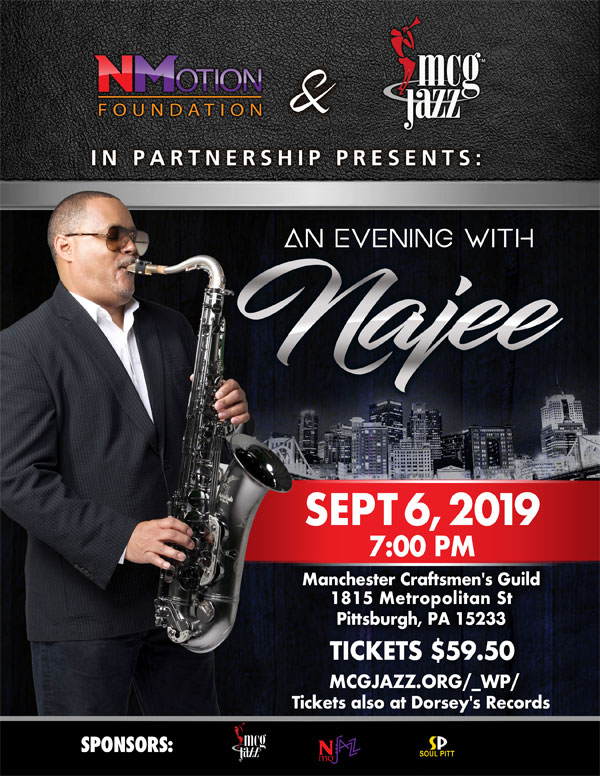 The N-Motion Foundation
in partnership with MCG Jazz presents:
An Evening with Najee

The N-Motion Foundation is proud to bring you one of the most well know jazz artist out today. Najee is a grammy nominated jazz artist that many people remember from the early eighty's. Songs like Day By Day and Najee's Theme for the eighty's still sound great!
Najee is expected to treat the Pittsburgh (MCG) audiences to performing on both the flute and saxophones. Najee will be accompanied by his amazing band of many years of performing together. This will be Najee first visit to Pittsburgh in three years and first time at MCG.


Come out and enjoy the great sounds
of this Grammy nominated jazz artist!




CLICK HERE TO PURCHASE TICKETS

A Soul Blast from TheSoulPitt.com goes out to thousands and those that they pass it on to!
All Soul Blasts are also posted on ALL of Soul Pitt's social media sites at no additional charge.
To get a blast call 412.407.SOUL or email adsales@thesoulpitt.com

GET SOULcial with SOUL PITT!