Subject: #SoulBlast - 7th Annual POWER OF LAUGHTER featuring KIM COLES on Sept 15th at the Westin
Share a lil' Soul with
your Social Networks!
#SoulBlast - 7th Annual POWER OF LAUGHTER featuring KIM COLES on Sept 15th at the Westin

Forward to Friends Past Soul Blasts View Online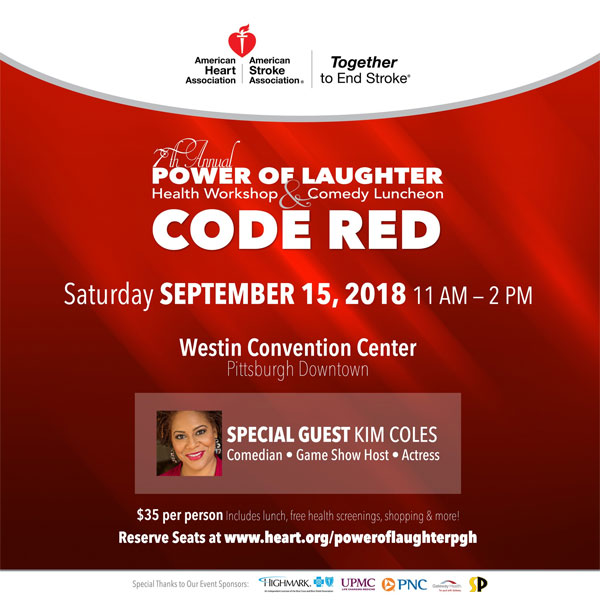 7th Annual Power of Laughter
Health Workshop & Comedy Luncheon
Saturday, Sept 15 2018 11AM-2PM
Join us for a host of laughter, a heart-healthy lunch, free health screenings, a silent auction, shopping, exhibitors and an educational workshop for all to enjoy.
Our featured comedian is a nationally known comedienne, actress and avid supporter of the American Heart Association/American Stroke Association - Kim Coles!


@ Westin Convention Center
1000 Penn Avenue | Pittsburgh, PA 15222
Register by
Friday, September 7, 2018
$35 Per Person
www.heart.org/poweroflaughterpgh


For more info, email Brenda Parks at
brenda.parks@heart.org

A Soul Blast from TheSoulPitt.com goes out to thousands and those that they pass it on to!
All Soul Blasts are also posted on ALL of Soul Pitt's social media sites at no additional charge.
To get a blast call 412.407.SOUL or email adsales@thesoulpitt.com

GET SOULcial with SOUL PITT!