Subject: #SoulBlast - 6th Annual YouthPlaces College Fair | Saturday, Nov 10th 10AM to 2PM
Share a lil' Soul with
your Social Networks!
#SoulBlast - 6th Annual YouthPlaces College Fair | Saturday, Nov 10th | 10AM to 2PM at Nova Place

Forward to Friends Past Soul Blasts View Online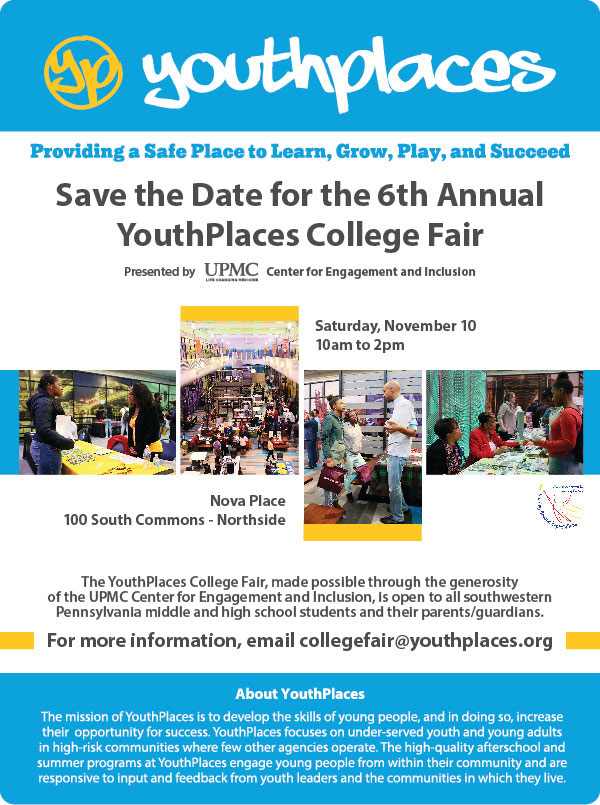 6th Annual College Fair
Saturday, November 10, 2018
10 a.m. – 2 p.m.
@ Nova Place, 100 S Commons Pittsburgh PA


An initiative stemming from the YP Futures program, the annual college fair enables youth to increase their understanding of post-secondary education requirements, processes and connection to opportunities otherwise not presented to them. Utilizing the trusted relationships we build with students across Allegheny County we successfully connect university/college recruiters with (often) first generation college aspirants.


For more information, email
collegefair@youthplaces.org
www.youthplaces.org

A Soul Blast from TheSoulPitt.com goes out to thousands and those that they pass it on to!
All Soul Blasts are also posted on ALL of Soul Pitt's social media sites at no additional charge.
To get a blast call 412.407.SOUL or email adsales@thesoulpitt.com

GET SOULcial with SOUL PITT!