Subject: #SoulBlast - 6th Annual Week of Positive Change, Non-Violence and Opportunities | Oct 13-21, 2018
Share a lil' Soul with
your Social Networks!
#SoulBlast - 6th Annual Week of Positive Change, Non-Violence and Opportunities | Oct 13-21, 2018

Forward to Friends Past Soul Blasts View Online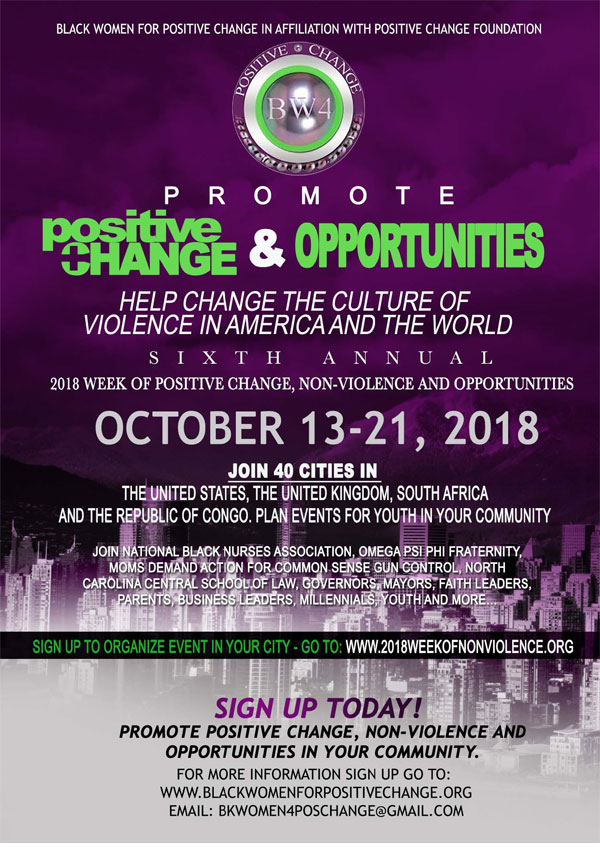 BLACK WOMEN FOR POSITIVE CHANGE
Pittsburgh Chapter
Strengthening, Preserving and Expanding
the American Middle/Working Class
"Changing the Culture of Violence in America"
Week of Non-Violence, October 13-21, 2018
The Week of Non-Violence, Justice & Opportunities is an opportunity for individuals, organizations, youth, Millennials, Faith Institutions, business leaders, athletes, Educators and everyone else to organize large and small events to promote non-violence, peace and getting along. You are invited to schedule your own event in your own neighborhood to inform youth that they can master their anger, and learn conflict resolution and anti-bullying skills.
Sign up to organize in your city, by visiting:
http://www.blackwomenforpositivechange.org/

A Soul Blast from TheSoulPitt.com goes out to thousands and those that they pass it on to!
All Soul Blasts are also posted on ALL of Soul Pitt's social media sites at no additional charge.
To get a blast call 412.407.SOUL or email adsales@thesoulpitt.com

GET SOULcial with SOUL PITT!