Subject: #SoulBlast - 6th Annual CEIR with Keynote Speaker CANDI CASTLEBERRY SINGLETON | June 25th, Admission is free
Share a lil' Soul with
your Social Networks!
#SoulBlast - 6th Annual CEIR with Keynote Speaker CANDI CASTLEBERRY SINGLETON | June 25th, Admission is free

Forward to Friends Past Soul Blasts View Online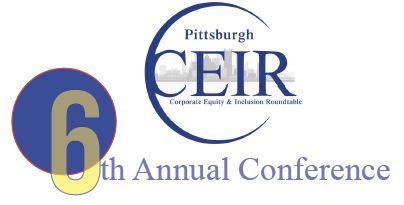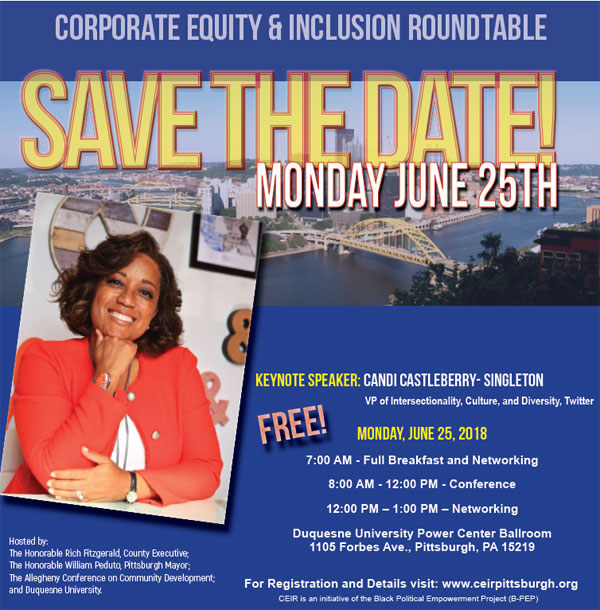 Join us on Monday, June 25th at the Duquesne University Power Center Ballroom for the 6th Annual CEIR Pittsburgh Conference!

Admission is FREE!
The concept of the Corporate Equity & Inclusion Roundtable is to say to every part of our region – we want an ongoing commitment, not a one-time commitment but an ongoing commitment embracing what we call the Revised Rooney Rule. It says that for every job, from entry-level to the C-suite, an African-American, Hispanic, someone of color will be considered. That doesn't mean that all of a sudden, all the jobs are taken by people of color. It means that people of color are now in the mix.

We're pleased to announce these speakers
to be featured at the 6th annual roundtable!


Keynote Speaker CANDI CASTLEBERRY SINGLETON,
Vice President of Intersectionality, Culture,
and Diversity (ICD), Twitter Inc.

Introduction from STEFANI PASHMAN,
Chief Executive Officer, Allegheny Conference
on Community Development

Update and Closing Comments from
the Honorable WILLIAM PEDUTO,
Mayor, City of Pittsburgh


WALTER BENTLEY, IBEW Local Union #5
RUTH BYRD-SMITH, Allegheny County
MONA DINE, HarbisonWalker International
BILL FLANAGAN, Allegheny Conference
on Community Development (program emcee)
EVAN FRAZIER, Highmark Health
SEAN GRAY, All Star Code
DARCEL MADKINS, PNC
BARRY NATHAN, Concierge Pittsburgh
JEFF NOBERS, Builders Guild of Western PA
AUDREY RUSSO, Pittsburgh Technology Council
LATRENDA LEONARD SHERRILL, Remake Learning
SUSAN YOHE, Buchanan Ingersoll & Rooney PC


Register now at http://bit.ly/CEIR2018

A Soul Blast from TheSoulPitt.com goes out to thousands and those that they pass it on to!
All Soul Blasts are also posted on ALL of Soul Pitt's social media sites at no additional charge.
To get a blast call 412.407.SOUL or email adsales@thesoulpitt.com

GET SOULcial with SOUL PITT!