Subject: #SoulBlast - 35th Annual Urban League Sunday | Feb 9, 2020, 4PM-6PM at Mount Ararat Baptist Church
Forward to Friends Past Soul Blasts View Online

#SoulBlast - 35th Annual Urban League Sunday | Feb 9, 2020, 4PM-6PM at Mount Ararat Baptist Church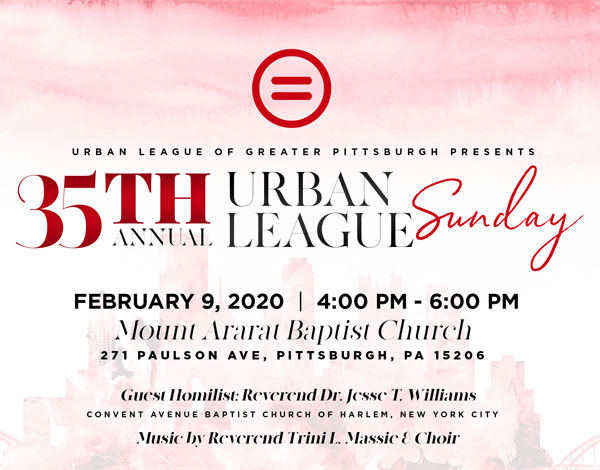 Guest Homilist: Reverend Dr. Jesse T Williams
from the Convent Avenue Baptist Church of Harlem, New York City
Music by Reverend Trini L. Massie & Choir
This event is open to the public.


A Soul Blast from TheSoulPitt.com goes out to thousands and those that they pass it on to!
All Soul Blasts are also posted on Soul Pitt's social media sites at no additional charge.
To get a blast call 412.407.SOUL or email adsales@thesoulpitt.com

GET SOULcial with SOUL PITT!