Subject: #SoulBlast - 2nd Annual Collective Community Impact Forum, Oct 12, 2018 | 10AM-2PM at Point Park University
Share a lil' Soul with
your Social Networks!
#SoulBlast - 2nd Annual Collective Community Impact Forum, Oct 12, 2018 | 10AM-2PM at Point Park University

Forward to Friends Past Soul Blasts View Online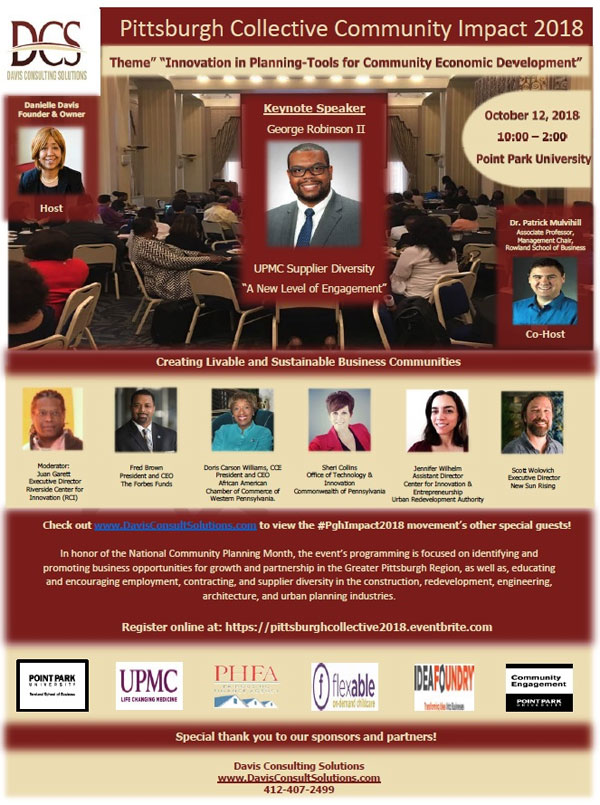 Join Davis Consulting Solutions,
in partnership with Point Park University
for the 2nd Annual
Pittsburgh Collective
Community Impact 2018 Forum!


Friday, October 12, 2018
10:00 a.m. - 2:00 p.m.

Registration begins at 9:15 a.m.; Program starts at 10:00 a.m.
@ Point Park University

Lawrence Hall Ballroom, 201 Wood Street | Pittsburgh, PA 15222
Davis Consulting Solutions and Point Park University Rowland School of Business honors community planning initiatives as well as individuals working to make inclusive communities of lasting value for all at the second annual Pittsburgh Community Collective Impact Forum

Oct. 12, 2018

.

Hear from a diverse group of professionals like Deputy Director, Sheri Collins, Office of Technology & Innovation, Commonwealth of Pennsylvania and various others.
Below is just a snapshot of the representatives joining us from several industries such as planning, business, higher education, faith-based organizations, the philanthropic community, chamber of commerce, and economic development. But there's more.
Multiple ticket types are available. You can either chose morning or afternoon sessions or join us for the whole event. Tickets as low as $20.

Join us for lunch with our keynote speaker, George Robinson II of UPMC Supplier Diversity department.
Presentation on the UPMC Supplier Diversity Web Portal, it's purpose, and how UPMC Supplier Diversity is utilizing it and other tools to engage both the Diverse business space and our internal UPMC procurement assets to grow Diverse business utilization.



For more info call 412.407.2499

Sponsored in part by
UPMC, Pennsylvania Housing Finance Agency,
Point Park University Rowland School of Business
and Department of Community Engagement,
Idea Foundry, Flexable, LLC, and CDI Printing

A Soul Blast from TheSoulPitt.com goes out to thousands and those that they pass it on to!
All Soul Blasts are also posted on ALL of Soul Pitt's social media sites at no additional charge.
To get a blast call 412.407.SOUL or email adsales@thesoulpitt.com

GET SOULcial with SOUL PITT!