Subject: #SoulBlast - 2018 Family Conference & Luncheon! #FamilyMatters Oct 12-14, 2018 with Pastors John & Latisha Robinson
Share a lil' Soul with
your Social Networks!
#SoulBlast - 2018 Family Conference & Luncheon! #FamilyMatters Oct 12-14, 2018 with Pastors John & Latisha Robinson

Forward to Friends Past Soul Blasts View Online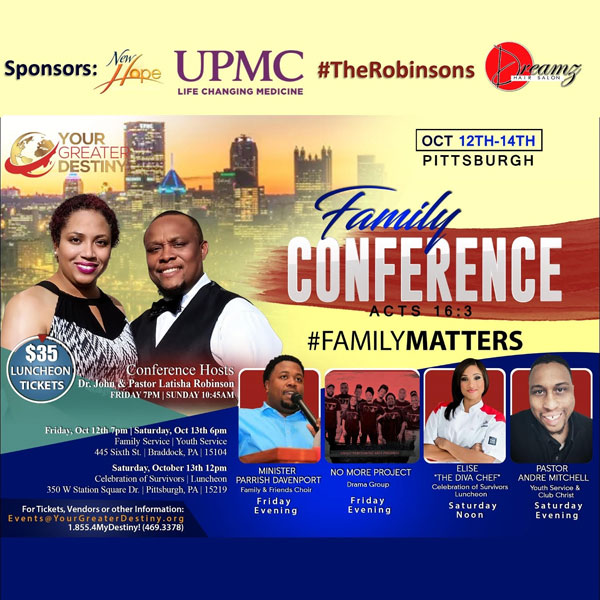 2018 Family Conference & Luncheon!
#FamilyMatters | Oct 12-14, 2018
with Pastors John & Latisha Robinson
On Friday at 7pm, Minister Parrish Davenport with the Family & Friends Choir and the No More Project Drama Group will be in attendance!
Saturday, at 12pm, we will be having our Celebration of Survivors Luncheon. Tickets are available online and at Dreamz Hair Salon in Homestead, PA.
Satuday at 6pm, Pastor Andre Mitchell will minister to our Youth followed by Club Christ at 7pm. Tickets for Club Christ are available online and at Dreamz Hair Salon.
All services are FREE to the public. However, we would like to know if you are going to be there just in case we need a larger facility.
For Tickets, Vendors or other Information:
Call 1-855-4MyDestiny (469-3378)
or email Events@YourGreaterDestiny.org

A Soul Blast from TheSoulPitt.com goes out to thousands and those that they pass it on to!
All Soul Blasts are also posted on ALL of Soul Pitt's social media sites at no additional charge.
To get a blast call 412.407.SOUL or email adsales@thesoulpitt.com

GET SOULcial with SOUL PITT!