Subject: #SoulBlast - 1Hood Media Brings Legendary Rapper Rakim to the Andy Warhol Museum on Jan 15!
Forward to Friends Past Soul Blasts View Online

#SoulBlast - 1Hood Media Brings Legendary Rapper Rakim to the Andy Warhol Museum on Jan 15!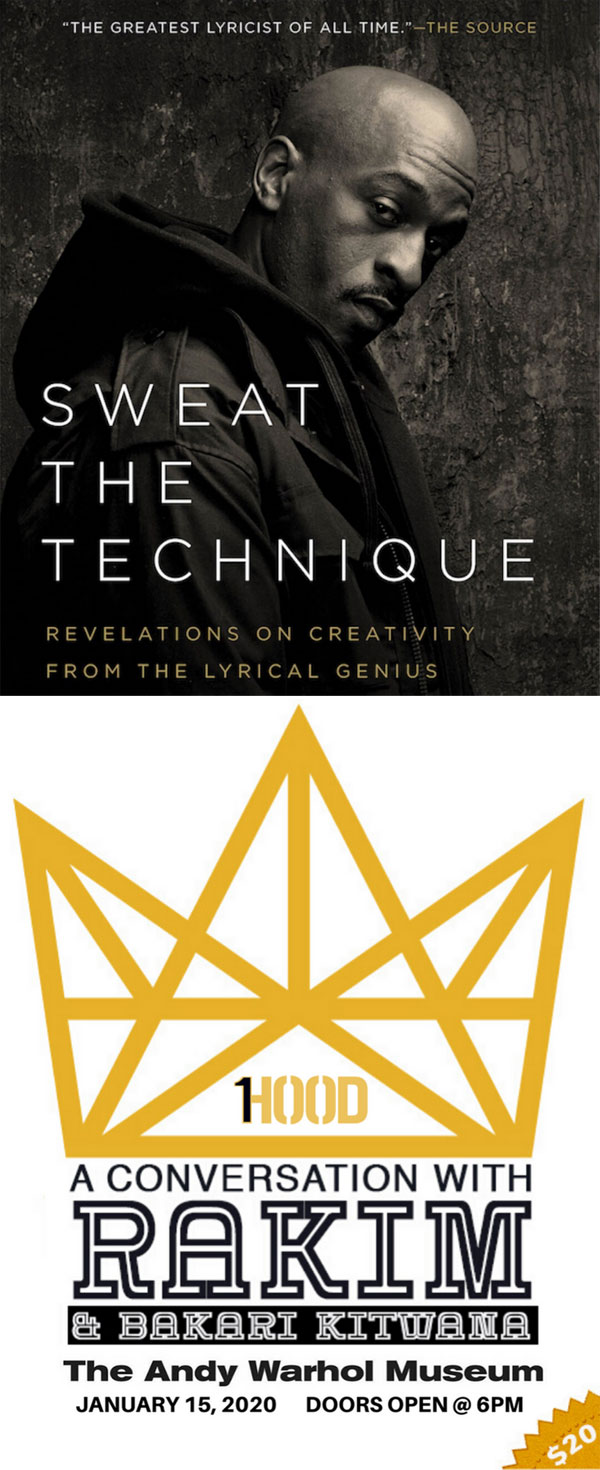 1Hood Media is kicking off 2020
with legendary rapper Rakim,
considered to be the greatest lyricist of all time,
Wednesday, January 15th
at the Andy Warhol Museum at 7 pm.


Rakim will discuss the current state of Hip-Hop as well as his recently released best-selling memoir, "Sweat the Technique." Rakim will be joined in conversation by the book's co-author, former Executive Editor of the Source Magazine and founder of Rap Sessions, Bakari Kitwana. This event is the kickoff of the 1Hood Artivist Academy and we'll be introducing our 2020 Artivist Academy cohort.
The first cohort concluded its program this past winter with a showcase at the Andy Warhol Museum featuring a conversation with Public Enemy's Chuck D and we're excited to engage another group of artists and activists. With a commitment to social justice and advocacy, as well as the overwhelming support received from the community and fellow changemakers, 1Hood Media is thrilled to have another opportunity to bring attention to global inequities while highlighting local talent.
The Artivist Academy successfully cultivated over 15 performance and visual artists by providing mentorship, funding and a platform to develop a project that incorporated arts and activism. "The 1Hood Artivist Academy provided me with an opportunity to have a more in-depth conversation with the Pittsburgh community about powerful and painful topics like police brutality, an experience which doesn't exist elsewhere in the city. 1Hood Artivist Academy is doing what the city of Pittsburgh has yet to do: take chances on the artists trying to speak life into it," says visual artist Jasmine Green.
Wednesday, January 15, 2020
Doors Open @ 6PM
@ The Andy Warhol Museum
117 Sandusky St, Pittsburgh, PA 15212
CLICK HERE TO PURCHASE TICKETS
For additional questions, contact Jasiri X at jasirix@1hood.org.


A Soul Blast from TheSoulPitt.com goes out to thousands and those that they pass it on to!
All Soul Blasts are also posted on Soul Pitt's social media sites at no additional charge.
To get a blast call 412.407.SOUL or email adsales@thesoulpitt.com

GET SOULcial with SOUL PITT!