Subject: Soul Blast - WYEP celebrates 20 yrs of the Soul Show 7/31 7-10pm w/ FREE Concert!
Share a lil' Soul with
your Social Networks!
Soul Blast - WYEP celebrates 20 yrs of the Soul Show 7/31 7-10pm w/ FREE Concert!

Forward to Friends Past Soul Blasts View Online
The Soul Show Celebration
Friday, July 31 2015
Hosted by Mike Canton of WYEP's The Soul Show
7pm Poogie Bell | 8pm Water Seed
FREE CONCERT! @ SCHENLEY PLAZA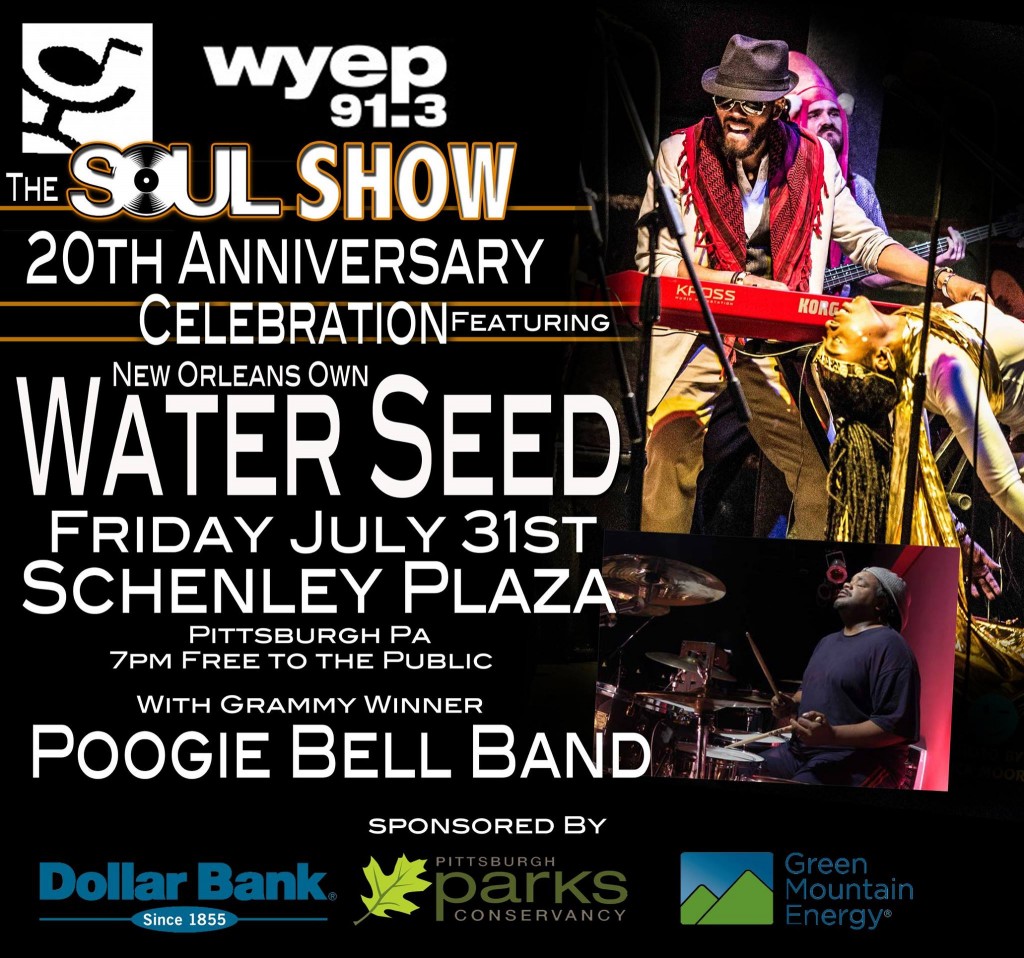 Poogie Bell is a Pittsburgh-based drummer, composer, band leader and producer. Best known for his collaborations with such artists as Marcus Miller, Erykah Badu, David Bowie, Roberta Flack, Al Jarreau, Chaka Khan, and other luminaries, He has just returned from a European tour and is working on his next album. This will be the first appearance at a WYEP Final Friday concert by Poogie Bell and his band.
Water Seed reflects the diverse feelings and experiences of Black America. Founded by New Orleans-born multi-instrumentalists Lou Hill and J. Sharp, the architects of Water Seed's cool, elemental sound, the band thrives on rhythm and groove, elegant jazz flourishes and lyrical songs deeply rooted in Louisiana jazz traditions melded with the modern in the creation of the new.
Don Patterson, co-founder of The Soul Show with Stephen R. Chatman, will be at Schenley Plaza to help introduce Poogie Bell and Water Seed.
A Soul Blast from TheSoulPitt.com goes out to thousands and those that they pass it on to!
All Soul Blasts are also posted on ALL of Soul Pitt's social media sites at no additional charge.
To get a blast call 412.407.SOUL or email adsales@thesoulpitt.com
GET SOULcial with SOUL PITT!