Subject: Soul Blast - THIS SATURDAY! Happy Birthday August Wilson Block Party, April 29 at 12PM
Share a lil' Soul with
your Social Networks!
Soul Blast - THIS SATURDAY! Happy Birthday August Wilson Block Party, April 29 at 12PM

Forward to Friends Past Soul Blasts View Online
HAPPY BIRTHDAY AUGUST WILSON
BLOCK PARTY!
SATURDAY, APRIL 29 AT 12 PM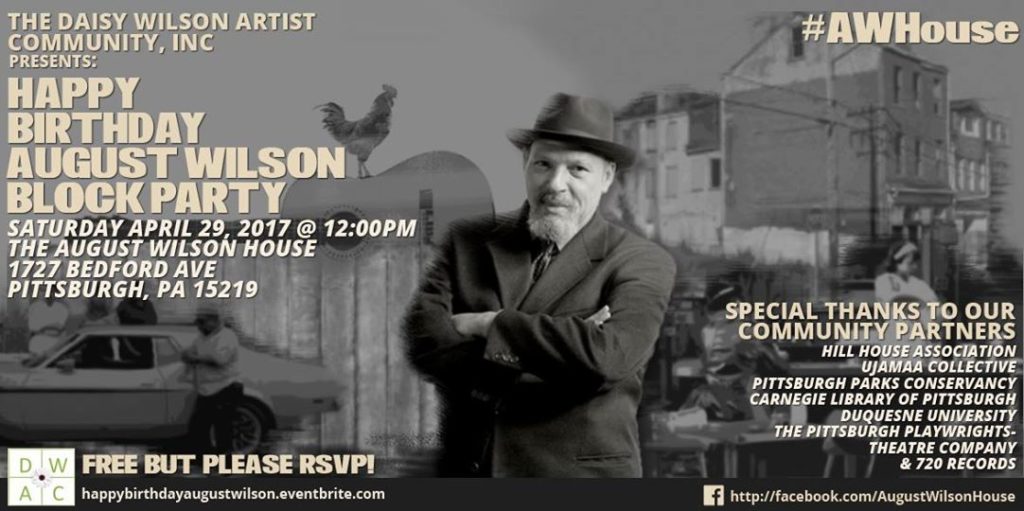 In its second year, the August Wilson Birthday Block Party promises to become a tradition, uniting Pittsburghers and visitors in a happy event in honor of the great playwright. On Sat., April 29, Noon-5 pm, the party will take over several blocks extending eastward from the August Wilson House (AWH) at 1727 Bedford Ave. in the Hill District.
The free event is for all ages. Attractions will include food trucks and vendors of many kinds, performances, singers, dancers, drummers, children's activities, a fire truck, a glimpse of AWH restoration, tours of the August Wilson Park, fun, friendship and, of course, a cake!
Hourly on the half-hour, 12:30-4:30, there will be excerpts from AW's plays performed in the AWH backyard, while on the hour, 12:00-4:00, there will be music, song and dance performances further up Bedford.
August Wilson (1945-2005) would be 72 on April 27. As one of his greatest fans, Denzel Washington, who spent much of 2016 in the Hill filming "Fences," has said, "August is one of the five great American playwrights," and, "you just play the music" of his language. He came to the Hill to get the music right.




THE AUGUST WILSON HOUSE, built in 1840 and 1880, is where the playwright spent his childhood, sharing two small rooms with his parents and five siblings, absorbing Hill lore, experiences and personalities that enrich his plays. The Daisy Wilson Artist Community, Inc. (named for his mother) is restoring the AWH both for those who want to celebrate his life and see where the 10 famous plays of the American Century Cycle (aka Pittsburgh Cycle) began, and as an intimate arts center that will nurture the artists of tomorrow.
A Soul Blast from TheSoulPitt.com goes out to thousands and those that they pass it on to!
All Soul Blasts are also posted on ALL of Soul Pitt's social media sites at no additional charge.
To get a blast call 412.407.SOUL or email adsales@thesoulpitt.com
GET SOULcial with SOUL PITT!