Subject: Soul Blast - Panera Bread 2015 MLK Jr. Writing Contest for H.S. Students | Deadline Jan 2nd
Share a lil' Soul with
your Social Networks!
"Soul Blast - Panera Bread 2015 MLK Jr. Writing Contest for H.S. Students | Deadline Jan 2nd"

Forward to Friends Past Soul Blasts View Online
CALLING ALL HIGH SCHOOL STUDENTS!

Panera Bread 2015 MLK Jr. Writing Contest
DEADLINE JAN 2, 2015
1st place $500, 2nd place $250, 3rd place $125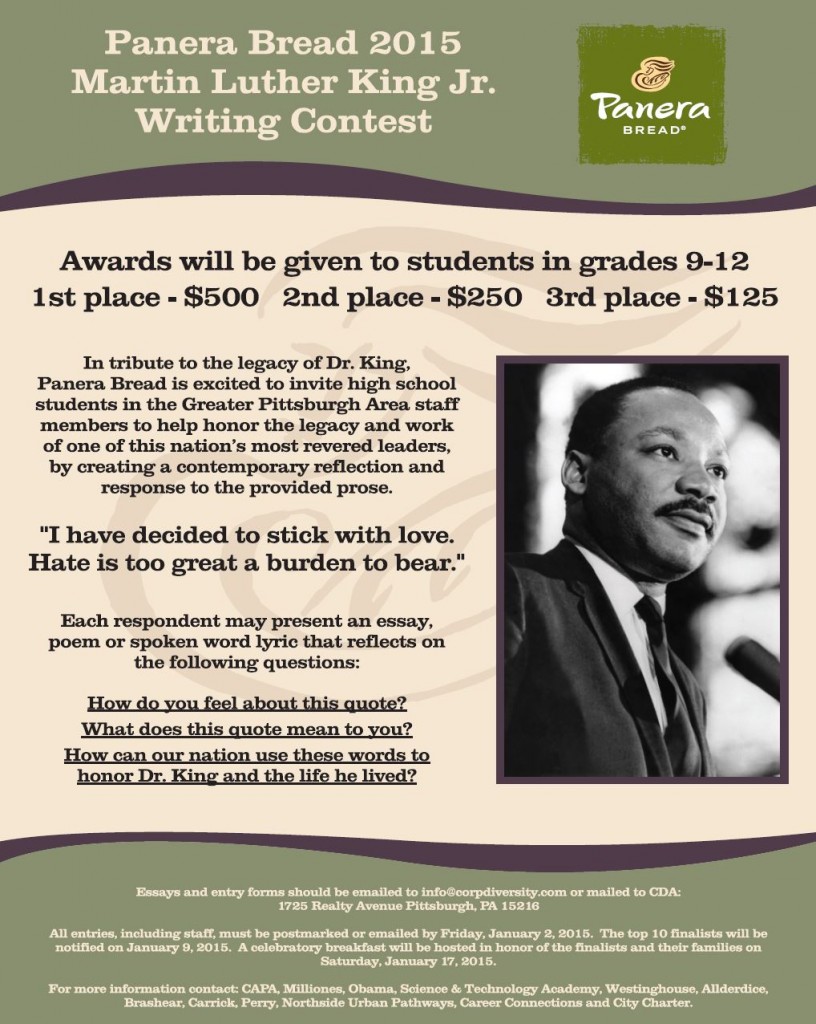 Essays and entry forms
should be emailed to info@corpdiversity.com
or mailed to CDA: 1725 Realty Avenue, Pittsburgh PA 15216
All entries, including staff, must be
postmarked or emailed by Friday, Jan 2, 2015.
The top 10 finalists will be notified on Jan 9, 2015.
A Soul Blast from TheSoulPitt.com goes out to thousands and those that they pass it on to!
All Soul Blasts are also Tweeted Out & Posted on Facebook, Google+ and Linkedin at no additional charge.


To Advertise your event or biz call 412.407.SOUL or email adsales@thesoulpitt.com
Get SOULcial
with SOUL Pitt!