Subject: Soul Blast - Mayor Peduto | Building a Pittsburgh for ALL of us
Share a lil' Soul with
your Social Networks!
Soul Blast - Mayor Peduto | Building a Pittsburgh for ALL of us

Forward to Friends Past Soul Blasts View Online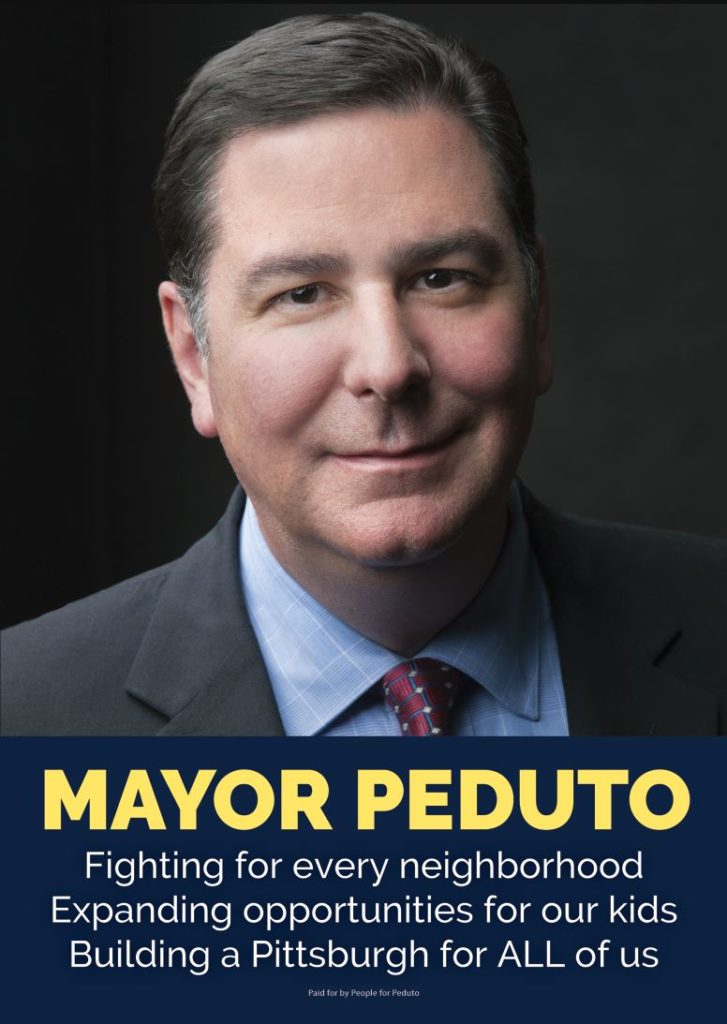 Bill Peduto—first elected as mayor in 2013 as a reformer who is focused on making changes that have an impact on people's daily lives—is seeking re-election this May. Mayor Peduto is overseeing economic growth in the City for the first time in over fifty years. Mayor Peduto has been clear that the billions of dollars of investment from large employers is not worth it if the City does not also make investments in our neighborhoods, in our children, and has a positive impact on the lives of each and every person who lives here. With thousands of new, good-paying jobs, the mayor is committed to solving the long-ignored problems such as increasing affordable housing, doubling the road repair budget, and dramatically increasing the summer jobs program. Bill Peduto knows that there is work to be done, and he is determined to keep Pittsburgh a special place, but to also be sure that it's a city that works for all of our residents.
Bill Peduto has worked to ensure that no child has their prospects threatened because they don't have access to the basics. When the Mayor took office, the City's youth employment program had 170 jobs. The program has been expanded to include over 2,000 jobs. The Learn and Earn Summer Youth Employment Program gives opportunities for City residents between the ages of 14 and 21 not just to earn money, but also to learn the skills needed to compete and succeed in the 21st century workforce.
Peduto also created the City's first after-school meals program for children and is championing free after-school programs. The GrubUp Pittsburgh program provides healthy breakfasts, lunches, and snacks during the summer and afterschool meals during the school year at no cost at recreation centers throughout the City. The Rec2Tech Pittsburgh initiative is transforming the city-owned recreation centers into technology-enhanced learning centers. Participants incorporate lessons in science, technology, engineering, and mathematics with hands-on activities, which also includes a healthy snack and dinner. The program is designed to leverage City resources into bridging the "digital divide" and making sure that our children are learning lifelong skills for the jobs of the future.
Investing in our community also means keeping us safe, and under Bill Peduto's leadership, Pittsburgh has hired the highest number of police officers, firefighters, and building inspectors in decades. The Mayor has made public safety a priority to keep our neighborhoods safe by continuing to crack down on crime and putting a focus on community policing and accountability in the police department.
With the election of Donald Trump to president, Maybe Peduto understands that our cities are our last line of defense to protect those of us who are most vulnerable. The Mayor is opposed to the President's draconian budget cuts to programs that we desperately need in our city, including afterschool programs and Medicaid. Mayor Peduto is committed to pushing for these programs to be properly funded. Mayor Peduto has also been a strong, outspoken opponent of Trump's divisive language and executive orders, which takes aim at people of color and women. Mayor Peduto is committed to keeping Pittsburgh a welcoming and diverse city.
Mayor Peduto's first term and his campaign for re-election is centered around making sure that everyone benefits from our economic growth. In the past, growth in our city has not worked for everyone. The Mayor has made a commitment that every person and every neighborhood must benefit from economic growth.
A Soul Blast from TheSoulPitt.com goes out to thousands and those that they pass it on to!
All Soul Blasts are also posted on ALL of Soul Pitt's social media sites at no additional charge.
To get a blast call 412.407.SOUL or email adsales@thesoulpitt.com
GET SOULcial with SOUL PITT!