Subject: Soul Blast - Louisi-Ann's GumboFest 2016 at 4PM on April 3rd
Share a lil' Soul with
your Social Networks!
Soul Blast - Louisi-Ann's GumboFest 2016 at 4PM on April 3rd

Forward to Friends Past Soul Blasts View Online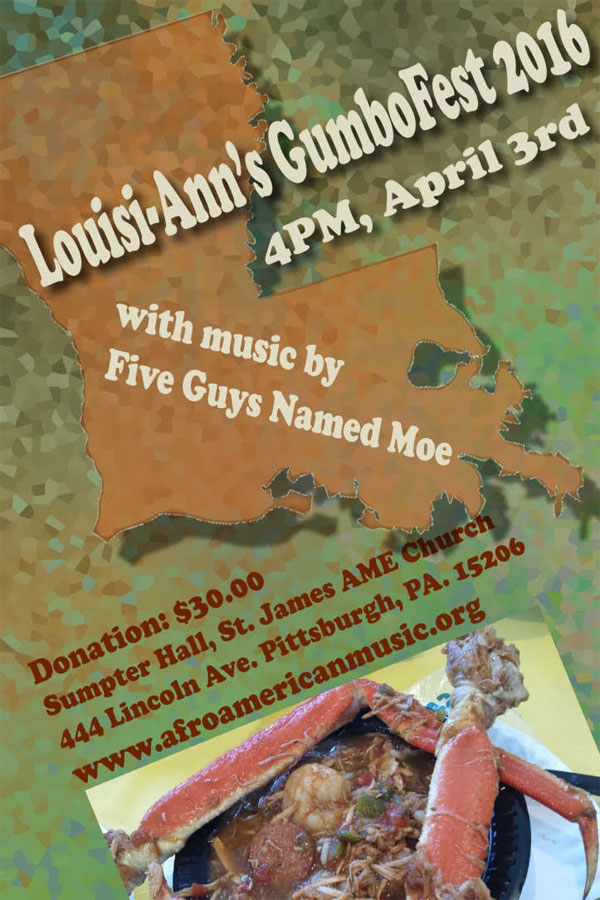 We had an excellent time
at the AAMI 33rd Anniversary!

Here's another opportunity to join us for another great event. Our annual Gumbofest is a family friendly, jazzy, delicious good time.


The only place in Pittsburgh you can get authentic gumbo ~ with everything in it ~ at a great price.

(Seafood free and no pork options available. Vegetarians – you won't want to miss out on these red beans and rice.)

For more information call (412) 241-6775
Come out and get a taste of southern hospitality, party Louisiana-style and support a good cause, proceeds from this
benefit support Afro-American Music Institute.
www.afroamericanmusic.org
A Soul Blast from TheSoulPitt.com goes out to thousands and those that they pass it on to!
All Soul Blasts are also posted on ALL of Soul Pitt's social media sites at no additional charge.
To get a blast call 412.407.SOUL or email adsales@thesoulpitt.com
GET SOULcial with SOUL PITT!