Subject: Soul Blast - Dance Africa 2017 on July 21-23 presented by Legacy Arts Project & KST
Share a lil' Soul with
your Social Networks!
Soul Blast - Dance Africa 2017 on July 21-23 presented by Legacy Arts Project & KST
Forward to Friends Past Soul Blasts View Online
THE 6TH DANCE AFRICA PITTSBURGH 2017

Presented in collaboration with
the Kelly Strayhorn Theater


The Legacy Arts Project (LAP) to present Dance Africa 2017 'It's in the A.I.R' in honor of its late founder, Dr. Charles "Baba Chuck" Davis. The event takes place July 21-23, at the Kelly Strayhorn Theater, located at 5941 Penn Ave.

Keeping within the tradition of the LAP and the 2017 theme, 'It's in the A.I.R', Dance Africa features performances from Afoutayi Hatian Dance Company, Djenane Saint Juste, an accomplished choreographer, dancer, actress and vocalist specializing in Haitian traditional dance and folklore, and The Legacy Arts Project. In addition to performances, there will be dance and drum workshops, a community marketplace, and a special dedication to Baba Chuck.


Friday July 21 @ 8PM
Saturday July 22 @ 8PM
Sunday July 23 @ 3PM
Workshops July 20-22
Tickets Available at:
www.legacyartsproject.org
For more info call 412.407.3727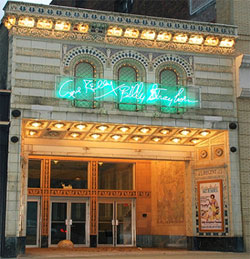 at Kelly Strayhorn Theater
5941 Penn Avenue | Pittsburgh, PA 15208
The mission of the Legacy Arts Project, Inc. is to preserve the history and traditions of African art as represented throughout the diaspora through education, instruction and interactions.
A Soul Blast from TheSoulPitt.com goes out to thousands and those that they pass it on to!
All Soul Blasts are also posted on ALL of Soul Pitt's social media sites at no additional charge.
To get a blast call 412.407.SOUL or email adsales@thesoulpitt.com
GET SOULcial with SOUL PITT!