Subject: Soul Blast - Could Pittsburgh be the Next Ferguson? Panel Discussion by 1Hood Media on Oct 3rd
Share a lil' Soul with
your Social Networks!
"Soul Blast - Could Pittsburgh be the Next Ferguson? Panel Discussion by 1Hood Media on Oct 3rd"

Forward to Friends Past Soul Blasts View Online
COULD PITTSBURGH BE
THE NEXT FERGUSON?
1Hood Media will host a conversation that seeks
to answer this question and more!
Friday, October 3, 2014, at 7:30 p.m.
Moderated by Hip Hop artist and activist Jasiri X
Is there a connection between the criminalization of Black youth by mass media and law enforcement surrounding events in Ferguson, Missouri and similar events surrounding Black youth in Pittsburgh, Pennsylvania?
On October 3, 2014, 1Hood Media, will host a conversation that seeks to answer this question, as well as other questions surrounding the portrayal of Black youth, the increased militarization of local law enforcement, and Hip Hop's responsibility in this issue. The panel will be moderated by Hip Hop artist and activist Jasiri X, who recently returned from Ferguson, Missouri, and is the founder of 1Hood Media.

~ Panelists include ~
Tef Poe | "Uncle Bobby"
Brandi Fisher | Malik Rhasaan

Tef Poe: Hip Hop artist and activist from St Louis, Missouri. Tef Poe has been organizing in Ferguson since Michael Brown was murdered, and helped bring that incident and the subsequent protests to national attention via social media. Tef Poe has written for Time Magazine and was recently honored by The National Association of Black Journalists for his articles on music and politics in the Riverfront Times. He has been featured in major media outlets such as MSNBC, BET, Noisey, The Source, XXL, Washington Post, and the New York Times

Cephus "Uncle Bobby" Johnson: The uncle of Oscar Grant (slain victim of police brutality) and one of the founders of the Oscar Grant Foundation and the Love not Blood Campaign. Cephus Johnson's activist work led to the first police officer in California history to be indicted for the officer's role in Oscar Grant's murder. A consultant on the film, Fruitvale Station, Cephus Johnson assisted in bringing the story to life surrounding his nephew, Oscar Grant. Cephus Johnson has continued his work as an activist, most recently in Ferguson, Missouri as he joined the families of Trayvon Martin, Jordan Davis and Michael Brown.

Brandi Fisher: As president of The Alliance for Police Accountability, Brandi Fisher continues to champion on behalf of criminalized of Black youth in Pittsburgh and beyond. Fisher first came on the activist scene during the trial of Jordan Miles, high school honor student attacked and brutally beaten by Pittsburgh Police. Most recently Fisher has walked alongside Leon Ford is his attempts to seek justice after being paralyzed by Pittsburgh police officers at a traffic stop gone awry.

Malik Rhasaan: Dubbed Time Magazine's Person of the Year (2011) The Protester, Malik Rhasaan is the founder of Occupy the Hood, an organization with chapters all over the country, dedicated to representing the voice and needs of people of color. Rhasaan, a community organizer and founder of THCradeo, an independent news organization, is currently helping to organize youth and street organizations in Ferguson, Missouri.
The discussion will happen on
Friday, October 3, 2014, at 7:30 p.m.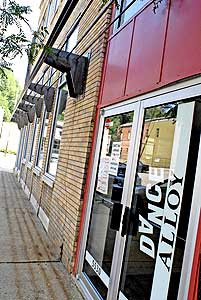 @ Alloy Studios
5530 Penn Avenue, Pittsburgh, PA 15206 412-363-3000
Admission is free and open to the public.
Funding for this talk is provided by
The Pittsburgh Foundation and Heinz Endowments.
The program will begin with a special performance by the students of 1Hood Media Academy. 1Hood Media Academy helps youth critically analyze media messages, broaden media experience, and develop creative skills needed in creating their own media. Our mission is to improve self-image, dispel stereotypes, and provide a positive forum of self-expression. The course will include, though not limited to, Hip Hop lyricism and beat production, the art of blogging, photography, video production, and social media.
To find out more info about 1Hood Media, please visit
www.1hood.org
A Soul Blast from TheSoulPitt.com goes out to thousands and those that they pass it on to!
All Soul Blasts are also Tweeted Out & Posted on Facebook, Google+ and Linkedin at no additional charge.


To Advertise your event or biz call 412.407.SOUL or email adsales@thesoulpitt.com
Get SOULcial
with SOUL Pitt!