Subject: Welcome Paul Louis Lessard!
View this email online if it doesn't display correctly
Welcome Paul Louis Lessard!
Dear Resound NW Community,
I am so excited to welcome

Paul Louis Lessard

to our teaching staff this month! Paul is a singer, actor, and voice teacher with extensive experience as a musician and vocalist, sharing music on stages all across the country.
Paul (he/they) has recently settled in Portland after performing as "Herod" in the Broadway national tour of

Jesus Christ Superstar.

You can even see a scene from their performance online here.
I am personally delighted for our students to get to experience Paul's work. They are such a warm, kind, and friendly presence in our studio, and they have a real passion for supporting people in their singing journeys.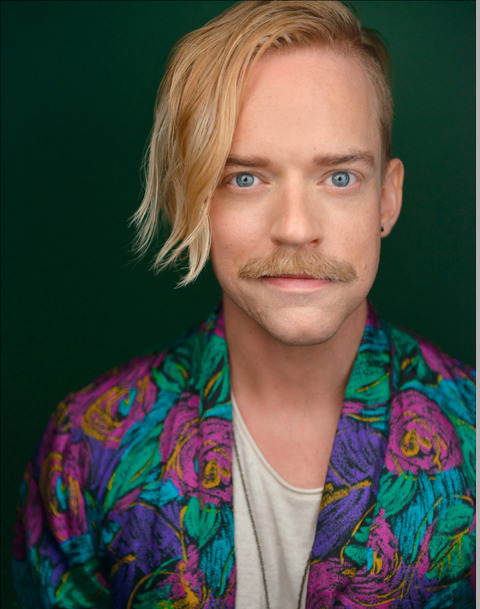 Paul Louis Lessard
is a passionate educator, musician and performer and believes everyone has the ability to connect, transform, and ascend through the universal power of singing.
As a vocal teacher, they believe in the union of healthy vocal technique, mental focus, and emotional awareness working in harmony to produce a sound and experience that is vibrant, truthful and unique to each individual singer.
Originally hailing from Okemos, Michigan Paul grew up as the youngest in a family of six and was surrounded by their family's love of music, theatre, dance, literature, art, and travel. They trained at The Interlochen Arts Academy, The London Dramatic Academy and received their BFA from The University Of Michigan in Musical Theatre.
Paul's previous teaching experience includes The Interlochen Arts Center, The New York Film Academy, Ann Arbor Public Schools, The Maltz Jupiter Conservatory for the Performing Arts, and The University of Michigan.
With over 25 years as a professional performing artist, Paul made their west coast debut in Portland Center Stage's 2010 production of
Sunset Boulevard
. Their work also includes performances at Music Theatre Of Wichita, The Maltz Jupiter Theatre, Pennsylvania Shakespeare Festival, Northern Stage, Maine State Music Theatre, North Shore Music Theatre, Palm Beach Dramaworks, Pioneer Theatre Company originating the role of Albert de Morcerf in Frank Wildhorn's American premiere of
The Count of Monte Cristo
, as well as appearances at New York City's Carnegie Hall and Lincoln Center (
I Am Harvey Milk
with Kristin Chenoweth), and...[read more]
In case you missed it...
Check out our upcoming Song Studio dates below for chances to work with both Leah and Paul.
Paul and Leah join our incredible teaching staff that includes:
Song Studio



What is a Song Studio class?





Song Studio is an opportunity for our community to come together through singing and provide a supportive environment to practice performing. After a period of group singing and warm-up, this class focuses on individual performances from students.





Are you ready to make your song come alive? Sing with YOUR voice and create a captivating, engaging performance
with Daniel Buchanan and Emily Kinkley
with Daniel Buchanan and Leah Yorkston
with Daniel Buchanan and Paul Louis Lessard
Beginning/Intermediate/Advanced
Each class is limited to 10 participants
(students who perform in class)
$40 per student per class
Available as a class option for Premiere Plan members
Song Studios are FREE to observe!
Save the Date for Upcoming Concerts from Resound NW:
Resound NW Studio Gathering and Concert
Sunday, May 21, 6:30-9:30pm at Resound NW



Resound NW Studio Gathering and Concert featuring SoulSinging
Sunday, June 11, 2:00-4:00pm at Powell City Park

Resound NW Summer Music Picnic
Saturday, August 26, 2:00-5:00pm at Powell City Park
Playback Theater PDX Presents




Psychotherapeutic Playback!!!




Psychotherapeutic Playback is a community of psychotherapy done in a public format. It is essentially group psychotherapy integrating psychoanalytic, psychodramatic, drama therapy, and internal family systems approaches to therapy.

Playback is a form of theater, where personal stories shared by audience members are performed within a creative group process. Interventions are made as needed within this creative context. Being witnessed is healing, and witnessing others' process is healing, and the intention is to build community healing.

Location: Resound NW, 1532 SW Jefferson St., Portland 97201
Advance Ticket Sales: $35*
*If you cannot afford to come, please reach out to us at info@playbacktheaterpdx.com to make a special request.
Give the Gift of Music!


Music lessons are an experience to be remembered and cherished!

Online Gift Certificates
(May be printed or emailed instantly)

Treat a loved one!

* Voice, Piano, and Guitar
* Single Lessons
* Packages
Did you know...?
...
Resound NW is offering private lessons both ONLINE and IN PERSON?
W
e are able to provide a high-quality lesson experience for you via online formats, and we have also developed a COVID-19 safety protocol for private music lessons in person. Contact us for more info.
...You can purchase gift certificates for music lessons?
We have an online store where you can purchase gift certificates for private lessons in voice, piano, or guitar. You can print the gift certificate instantly after purchase, or you can send it via email to your loved one. Music lessons are a great gift of EXPERIENCE for the special person in your life.
...The Resound NW studio is available for a limited number of rentals for rehearsals, performances, recordings, practice, and other events?
Our studio provides you a large, open space in which to make music, do theater work, dance, practice yoga, and so much more! We have a number of safety measures in place
that make these sorts of rentals possible
, including increased air filtration and ventilation. Read more about studio rentals.
Would you like to book a lesson with one of our instructors? We offer private lessons in voice, piano, and guitar. To view our instructors' availability, please check our appointment calendar below.
Performance Coach, Vocal Coach, and Piano Teacher