Subject: Organizations' Newsletter - September 23, 2018
View this email online if it doesn't display correctly
ORGANIZATIONS' N
EWS
LETTER
News and Opportunities for the Cultural Nonprofits and
Creative Businesses of Fairfield County, CT
September 23, 2018
The Cultural Alliance of Fairfield County is a nonprofit service organization that supports its members through unified marketing, capacity building, professional development, and advocacy services. This newsletter is sent to all who request it - but we ask that, if you are not a member, you explore membership benefits and consider joining this community of more than 600 individuals and organizations. Sign up here
MEMBERS: PREPARE YOUR WEBSITE PROFILES
Members are now beginning to load their profiles onto our new integrated Cultural Alliance+FCBuzz website. We encourage all members to begin the process. You will need a nice description of yourself and your work together with 3 images: a square logo, a 1600x430 pixel hero image (like the ones above and below) and a smaller 510x260 pixel "reference image."
Sneak a peek
.
SPOTLIGHT

ON "SYMPHONIES"
Did you miss our spirited conversation on

WHY SYMPHONIES MATTER

- the subject of this month's SPOTLIGHT ON ARTS & CULTURE - on

WPKN 89.5FM

.
Two new leaders of local symphony orchestras,

Russell Jones

at the
Stamford Symphony
and

Sandra Miklave

at the
Norwalk Symphony Orchestra
discussed their strategies for including schools and other parts of their local and regional communities into their raison d'être. Symphony orchestras are changing their roles - going out to schools, senior residences, even breweries, to share their passion for music and what it does to our brains. Check out this fascinating conversation between the Brit, Russell Jones, and the local girl, Sandra Miklave on Soundcloud.
SIGN UP FOR MEMBERS PARTY - OCT. 4
All staff and board members of all our Organization Members are encouraged to attend an Organization Members Party, hosted by Kevin Connors at the

Music Theatre of Connecticut

(509 Westport Ave., Norwalk) on

Thursday, Oct. 4, 5:30-7:30pm

.

$20

tickets will cover all your refreshments and are now on sale. A special feature will be a speed networking event to get you acquainted with one another. RSVP now!
FCPN ORGANIZES SHPO PLAN REVIEW: OCT 15
POSSIBILITIES FARM
While Wilton resident Carrie Brady fell in love with horses when she was just four years old, it wasn't until much later that she discovered the field of Equine Facilitated Learning, in which people partner with horses to create incredible possibilities . For example, Stanford University and other medical schools use horses to train physicians to build essential professional skills, including teamwork and nonverbal communication.Carrie took this as permission to go ahead and shape her dream to build a horse farm on which people could learn to let go of their paralyzing self-doubt, find mindfulness, and access untapped potential. In September 2016, she realized that dream, when she opened the doors of
Possibilities Farm
as a unique sanctuary in Wilton where clients partner with horses to achieve self-growth. Possibilities Farm offers innovative non-riding programs, in partnership with three extraordinary horses, including dance, music, visual arts, and creative writing. Carrie says she named the enterprise 'Possibilities Farm' because she wants people to discover their unique strengths and gifts and to see new possibilities in themselves and in any situation. The horses, she says, are key to facilitating this. "It's a privilege to partner with the horses and to see the impact they have on clients," says Brady. Thanks to Good Morning Wilton. See website and Facebook page.
❦

– Latest List by Town of Organization and Creative Business Members: here
❦

– Latest List by Town of Artist Members: here

ROUND-UP OF MEMBERS' NEWS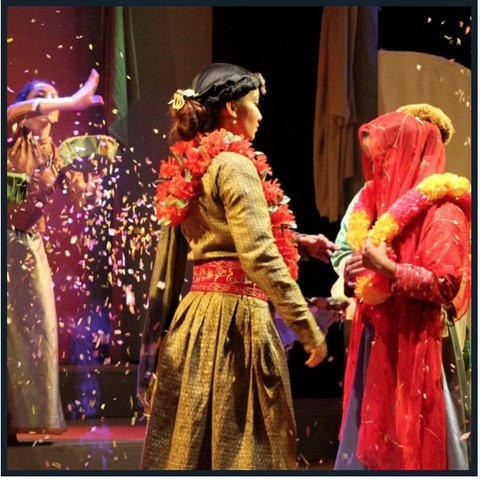 Creative Connections
(CC) was just awarded a U.S. Department of State grant to administer
World Learning
's
Communities Connecting Heritage
Program. As part of a cohort of grantees, CC will work with students in Nepal and the USA to advance cultural heritage appreciation and preservation through a unique arts exchange.
Specifically, CC will bring together 30 high school-aged participants from

The Mandala Theatre in Katmandu

, Nepal, and the

Regional Center for the Arts in Trumbull

, to engage in a creative approach to cultural heritage preservation using the power of the arts to better understand their own and others' cultures. Program participants will explore their cultural heritage by conducting and recording oral histories with family and community members and then sharing them through the exchange of art, videotaped drama, dance, and music pieces.
The exchange will be conducted both virtually through videoconference and web posting, and live through in-person visits to one another's countries.
More
...
The Darien Arts Center
(DAC) welcomes
Emily Altman

as its new

Visual Arts Director.

Emily will oversee visual arts programs for both adults and children at the DAC and is part of the team leading classes that include
Little Artists
for ages 3-5,
Elementary Art Studio
for ages 6 & 7,
Art Studio
for ages 8-10,
Cartooning
for ages 7-12,
Drawing and Painting
for ages 10-15,
Digital Photography
for ages 9-12 and
Watercolor
and
Oil Painting
for adults.
Emily holds a B.A. in Art History from Bucknell University and an M.A. from NYU in Visual Arts Administration. Before joining the DAC she worked at The Museum of Modern Art and Christie's Auction House, NY, in exhibition management for 10 years. In addition to her career in the visual arts, she was also a dancer for twenty years, and is thrilled to be a part of the DAC and to contribute to its success in bringing the arts to the community.
The Town of Fairfield
has announced that it has met all the requirements to receive Silver Status by
Sustainable CT
- the statewide initiative to recognize thriving and resilient Connecticut municipalities.
An award ceremony will be held Oct. 30 at the Conference of CT Municipalities. First Selectman
Mike Tetreau sent a message: acknowledging the
"many months of work in a wide range of categories, including thriving local economies, well-stewarded land and natural resources, dynamic and resilient planning, efficient physical infrastructure and operations and strategic and inclusive public services." More...
The Westport Library
and Westport Public Schools have been collaborating on planning for the inaugural Saugatuck StoryFest taking place
Oct. 12 – 14,
at the Library, on the banks of the Saugatuck River, and at various locations around Westport. The three-day celebration of writing had been on teachers' and librarian's minds for a while and combines a town-wide multidisciplinary literary festival with a craft-focused, workshop-based writers conference and culminates with the Connecticut Book Awards.
PRESERVATION NEWS FROM SHPO
SHPO DRAFT PLAN READY FOR REVIEW
The Connecticut State Historic Preservation Office (SHPO)
has completed a draft of its 5-year Strategic Plan. The draft is posted on SHPO's website and SHPO staff welcome your feedback. The public comment period will be open for thirty days, so if you'd like to comment on the plan, email
Julie.carmelich@ct.gov
using the heading "
SHPO Strategic Plan"
by
October 18, 2018
.

Review the Draft Strategic Plan

here.

Interested in discussing the Plan? The Fairfield County Preservation Network is organizing a review session at Wilton Library October 15, 6:45-8pm. Sign up here.
TAX CREDIT CELEBRATES 10 YEARS
The State's historic rehabilitation tax credit program provides for a 25% tax credit on eligible expenditures associated with the rehabilitation of historic structures. An additional 5% is available for projects that include an affordable housing component.
Since 2008,
103 historic buildings
have been rehabilitated into a mix of housing and non-residential use.
Twenty-three municipalities
have benefited from the program. Over
10 years t
he program has generated
$145,011,529 in tax credit vouchers
, leveraging
$567 million in private investment,
and created
2,747 new residential units
, including 1,005 affordable housing units and more than
950,000 SF in commercial space. Above Bridgeport's Mechanics and Framers Savings Bank.
| | |
| --- | --- |
| | Click images for available theatre and dance projects |
NATIONAL MEDAL NOMINATION




The Institute of Museum and Library Services is accepting nominations for the

2019

National Medal for Museum and Library Service

, the nation's highest honor awarded to libraries and museums for service to their communities. A

nyone may nominate an institution. Museums and libraries of most disciplines and types are eligible. To be considered, the institution must

complete and return the nomination materials

by October 1

. N

ow in its 25th year, the annual Medal

recognizes libraries and museums whose programs and services contribute demonstrably to the wellbeing of their communities. Medalist institutions exceed typical levels of community outreach by supporting community cohesion and helping to catalyze positive change. Winners' collaborative, adaptive programs, co-created with their communities, demonstrate exemplary service.

Nominees should review the

IMLS Strategic Plan

and highlight how their work aligns with the goals of promoting lifelong learning, building institutional capacity, and increasing access to their information and collections. Successful applications will showcase how their work with these contexts is making a difference for their communities.

This year, IMLS is particularly interested in library or museum programs that enhance services for veterans and military families, sustain growth opportunities for diverse youth and young professionals, or provide assistance to diverse youth, families, or seniors. Institutions interested in being considered should read the nomination form carefully and contact the designated program contacts with questions.

Museums

: Mark Feitl,

mfeitl@imls.gov

, and

NEFA DANCE & THEATRE PRESENTATION GRANTS




The New England for the Arts (NEFA)'s National Dance Project and National Theatre Project Presentation grants are made directly to U.S. nonprofit organizations presenting NDP projects on tour to support up to 50% of the artist's fee, including housing, per diem, and travel. These grants support the dance and theatre fields by making it possible for presenters to bring artists and companies into their communities, enabling audiences across the nation to experience work by some of today's most creative and compelling dance and theatre artists. Each year, 25 to 30 NDP projects are featured in engagements in an average of 250 communities across the country. These touring engagements create new connections between the public and artists, offer unique opportunities for artistic growth, and increase access to the arts and the creative process. Interested presenters should review available dance and theatre projects - then contact the project's tour coordinator. For

dance opportunities

,

organizations should contact tour coordinators Sept-Oct., 2018, to engage in planning and negotiations listed in the directory. The P

resentation Grant application for performances taking place between Jan. 1 and June 30, 2019 must be received by Nov. 17.

The Theatre

Grants

are awarded on a rolling basis, as negotiated between artist and presenter. Tour plans are submitted to NEFA by the project's tour coordinator on a rolling basis. Once a plan update has been submitted, NEFA will send the invitation to apply.
DON'T FORGET:

GOOD TO GREAT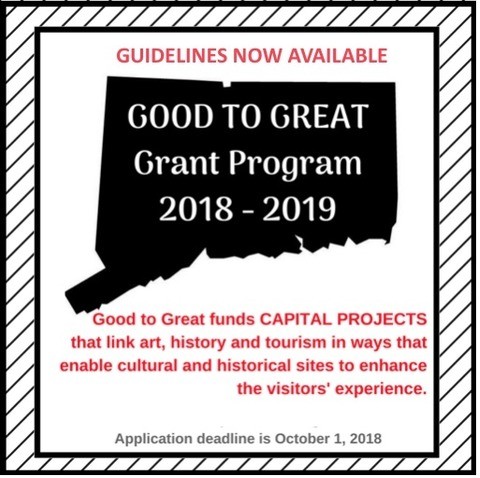 The Deadline is nearing

for T
he Good to Great grant program providing between $50,000 and $125,000 in funding for

Capital Projects

that

link art, history and tourism

in ways that enhance the visitors' experience of a cultural venue and/or historic site. The program is designed

for small to medium-sized organizations with an average annual income of $500,000 or less, that have received limited state funding in the recent past.

Eligible applicants are 501(c)(3) organizations that own, operate and/or sponsor a cultural venue or historic site in Connecticut. The Department of Economic and Community Development (DECD) seeks applications which look beyond basic facilities repair, rehabilitation or expansion towards

new means of telling the stories

of our state's rich history and culture in engaging, meaningful, and relevant ways. Collaborative projects that demonstrate a clear vision of how individual sites and organizations can effectively tie together local, regional or statewide cultural assets, will be prioritized.

The application deadline is Oct. 1, 2018.

The historic site must be listed (or eligible to be listed) on the

State and/or National Register of Historic Places

.

Municipalities and previous Good to Great grant recipients are ineligible.
Good to Great is a reimbursement program and
awards require a

cash match of no less than 25%.



The Center for Nonprofits and the Master of Public Administration program at Sacred Heart University are jointly presenting a free one-day conference,

From Surviving to Thriving: Navigating Today's management and Financial Challenges.

Join other senior nonprofit leaders to discuss the strategies that nonprofits must implement to survive and thrive in today's environment. The keynote for the conference will be delivered by

Amy Houston

Professor of management at Columbia University and former head of management and administrative operations at the Robin Hood Foundation. She is at the forefront of innovative thinking about the management of nonprofits. The conference is free, by invitation only and will be held Fri. Nov. 2, at Sacred Heart university from 8am to 2pm. Further details and invitations will be announced shortly. But save the date.

NEW ENGLAND FOUNDATION

FOR THE ARTS




The New England Foundation for the Arts (NEFA)'s

Idea Swap

is an annual event for New England-based cultural programmers and artists to network and share touring project ideas, including those that may qualify for funding from NEFA's

Expeditions

grant program. It will be held On October 30, 9am-4pm at

Mechanics Hall

, Worcester, MA. You can

submit your own ideas, and browse those of others on NEFA's

Idea Swap Project Ideas page

. Approximately 15

-20 p

rojects will be selected for presentation at the Idea Swap. Project ideas must be submitted by

October 9, 2018

in order to be considered for presentation. Register for Idea Swap 2018 here.

$40 if registered by October 9; $60 afterwards.
Professional Development Events Coming Up...
Nov. 2: From Surving to Thriving, Sacred Heart University (
details t.b.a.)



The Bijou Theatre is a beautiful 190 seat venue located in thriving downtown Bridgeport. The venue offers live music, comedy and classic & independent films. It is also available for private and corporate function rentals. The Theatre is seeking a part-time

Sales Specialist

(100% commission only).

The requirements

of the position include: a

cquiring sponsors for live music events and series; p

ursuing corporate and private event rental business; h

elping shape sales strategy, including development of creative event packaging; and d

riving annual recurring revenue.

Ideal applicant would possess:

e

xcellent corporate and small business connections/ access in the Fairfield and New Haven County areas; s

trong interpersonal skills and reliable customer follow up; e

xperience negotiating and closing deals with clients; e

xperience with, and understanding of, the live entertainment venue business; f

lexible and open to changing priorities; and a

n active interest in maintaining customer satisfaction and deepening customer relationships.

We value integrity, a friendly "down to earth" personality, and a passion for great entertainment; they are at the heart of our organization. Interested candidates should apply with a resume and cover letter to Gary Peterson, at

gpeterson@bijoutheatrect.com




The Director of the Brant Foundation seeks an Executive Assistant who will work to provide personalized and administrative support in a well-organized and timely manner. The selected individual must be trustworthy, flexible, and adaptable. The ideal candidate for this position is a self-starter who is innovative and can work well in a fast-paced environment while maintaining discretion and confidentiality. Candidates must be able to multitask, learn quickly, and have an interest in the arts. The selected candidate must have excellent communication skills and must be willing to self-teach (i.e. researching the Director's contacts, etc.). The Personal Assistant should be able to anticipate and address the needs of the Director and be able to formulate and execute solutions in a productive and timely manner.

Qualifications:

a B.A. (art and/or hospitality background preferred); the ability to maintain strict discretion and trust-worthiness; good oral and communication skills; personable; excellent task manage-ment; exceptional organizational abilities and independent initiative; the ability to prioritize multiple tasks and work accurately under deadlines and time pressure; be adaptable and flexible; be proficient in Microsoft Word and Excel; have an eagerness to learn and have a genuine interest and enthusiasm for the arts; a driver's license and transportation for running errands and traveling to different office locations.

Please send all resumes to

sabrina.marsalisi@brantfoundation.org
The Cultural Alliance of Fairfield County is a 501(c)(3) organization. We are very grateful for the support of our individual and organization members, our individual donors and the following organizations.