Subject: Organizations Newsletter, October 19, 2019
View this email online if it doesn't display correctly
The Cultural Alliance of Fairfield County is a nonprofit membership service organization that supports its members through unified marketing, capacity building, professional development, and advocacy services. This newsletter is sent to all who request it, but we ask that,
if you are not a member
, you explore membership benefits and consider joining.
Find out more
and
s
ign up here
.
OCTOBER SPOTLIGHT NOW AVAILABLE
Accessibility & Inclusion: Lessons For Us All from The Americans with Disabilities Act, our October Spotlight interview show on

WPKN, 89.5FM

, is now available as a podcast.
This broadcast brought both a broad and in-depth discussion about Accessibility & Inclusion in the Arts – specifically rooted in issues around arts venues and arts organizations making accommodations for people with disabilities. The discussion was an outgrowth of the
ADA Principles and Practice Workshop
conducted by

Elanah Sherman

for the CT Office of the Arts. The discussion brought together Elanah,

Tamara Dimitri

from the Office of the Arts and the three guests on the workshop describing their experiences and recommendations as people with disabilities working with arts organizations:
Alan Gunzburg, Amy Oestreicher
and
Jamie Petrone
.
SAVOR CITY RETURNS WITH BRIDGEPORT ART TRAIL
On
Nov. 8, 6-8pm
, during the Bridgeport Art Trail, Savor City Bridgeport returns with a visit to STAR ISTANBUL
(
29 Markle Court)

in Downtown Bridgeport. The prix-fixe Turkish buffet will cost $35 (includes a corkage fee - BYOB) - payable as you enter.
Star Istanbul is the culmination of more than 25 years of experience in the restaurant business by its proud owner

Helim Yildiz

, who first came to the U.S. from Turkey in 1986 and immediately got to work. With 4.5 stars in Yelp, the restaurant is developing a reputation for great food and great hospitality: a true gem. Find out more and sign up for a place at the table.
President and CEO: Bill Purcell
Founded in 1964, the
Greater Valley Chamber of Commerce
(GVCC) is a dynamic, proactive organization that lives by its motto,
Advancing the Regional Agenda through Business Leadership
. Based in Shelton, the GVCC represents the business community of Ansonia, Beacon Falls, Derby, Oxford, Seymour, Shelton and the surrounding area. It currently consists of approximately 500 members that encompass a cross-section of the area's businesses with representation from manufacturing, retail, service, bio-tech, and corporate businesses from home-based sole proprietors to large corporations with multiple branches.
See CVCC's website, Facebook and Instagram pages.
Executive Director: Brad Cerenzia
Co-Producer:
Janet Megdadi
Formed in 2016,
Mamches Productions
is an art incubator for clever, mischievous and innovative new works. The Mamches name pays homage to mentor and friend, Valerie Mamches, who inspired thousands of people throughout her life.
Mamches produces an adventurous range of readings, musicals, and unique theatrical experie
nces from dynamic writers, seeking "to interpret and reflect the diverse world we live in today." Their upcoming production of

Disenchanted

, presented at FTC

Oct. 25 & 26

, is an hilarious off-Broadway hit, with
Snow White and her posse of disenchanted princesses "that's anything but Grimm." Forget the princesses you think you know – the original storybook heroines have come to life to set the record straight.
See Mamches' website, Facebook and Instagram pages.
❦

– Latest List by Town of Organization and Creative Business Members: here
❦

– Latest List by Town of Artist Members: here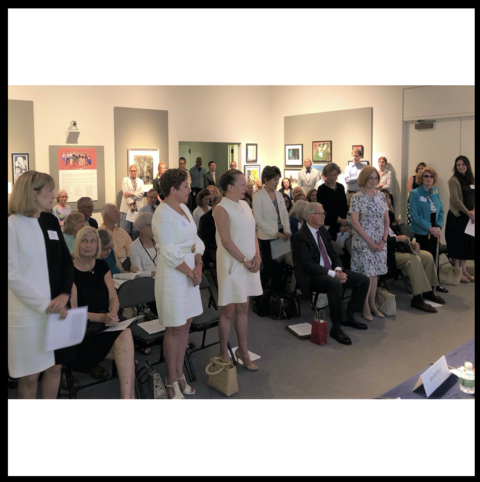 Bruce Museum
members elected 12 new and 5 returning Trustees to the Board at the Annual Meeting of Members in June. The Trustees held their first meeting of the fiscal year Sept. 24, 2019.
The Bruce Museum welcomed the following to the governing body:
Sue Moretti Bodson

,

head of a management advisory firm that focuses on nonprofits

;
Maryann Keller Chai

,

nationally prominent automobile industry analyst

;
William Deutsch

,

founder of an international wine and spirits distributor

;
Sachiko T. Goodman

,

real estate professional

;
Tracy Bishop Holton

, attorney and author;
John Ippolito

,

senior managing director of a global wealth management firm

;
Simone McEntire

(Vice Chair),

fashion industry veteran with a background in art history

;
Kathleen L. Metinko

,

attorney and partner at leading accounting firm;
Laurie Rubin, art advisor
;
Deborah Simon
,
art connoisseur and community volunteer
;
Judith K. Stein

,

MD, radiologist (retired)

;

Sue Ann Weinberg

, philanthropist.
These new Trustees in the Class of 2022 bring the total number of elected Trustees to 33. Click image for larger version. More...
Center Stage Theatre
(CST)

, Shelton,
partnered with BHcare, a state-licensed, non-profit behavioral healthcare, prevention and domestic violence services provider, during its recent production of Carol Burnett's

Hollywood Arms

.
Alcoholism is a major theme of the
play, based on Burnett's memoir,
and

Martin Marchitto

, CST's executive director, asked BHCare to help bring awareness of services that are available in the community during the run of the show. BHCare had staff at each performance of the play. Pam Mautte, Director of BHCares' Alliance for Prevention & Wellness was part of a "Talk Back" panel discussion after the play Oct. 6, discussing ways to decrease stigma and where to find help for those in need. Addiction is a major public health problem and addiction stigma prevents many people from getting the help they need.
Fairfield Theatre Company
(FTC) is about to unveil its new loft space: 3,000 square feet of new offices and a music educational center (to be used by
KEYS'
music programs that serve 700 students from 24 Bridgeport schools). Originally built in 1900, above and behind FTC's structures on Sanford Street, The Loft had in the past housed a machine shop, a recreational center and a small library, but was in a dilapidated state when FTC moved in and renovated the rest of the space. Up until now, FTC's offices were backstage, where green rooms should have been for performers. When bands came in they had to mingle with the staff. Now, said FTC producing artistic director

John Reid

, everyone is upstairs. The new space has allowed for two new greenrooms and four new dressing rooms backstage, which will allow FTC to bring in "more artists, bigger artists and an even bigger crowd." Thanks to FCBeat's reporting. See full article here
Greenwich Historical Society's reimagined campus won a 2019 AIA Connecticut Design Award of Excellence, in its adaptive re-use category.
David Scott Parker Architects developed a plan for incorporating
ailing adjacent structures to the rescued historic Bush-Holley House, and revitalized them as a cohesive historic campus; including adaptive-use restoration of "Toby's Tavern," as well as the construction of a new archives/gallery complex inspired by former dependencies, depicted in artworks by the Impressionist art colonists.
Stamford Museum and Nature Center
's
Knobloch Family Farmhouse Education Center,
designed by Hartford's
TSKP Studio,
has won a 2019 AIA Connecticut Design Award of Merit.

The Education Center provides educational spaces, visitor services and a new entrance to the Farm museum. Said

Melissa H.
Mulrooney, Executive Director & CEO of SM&NC
"We are incredibly proud of Whit Iglehart and the TSKP team for their extraordinary vision for our Knobloch Family Farmhouse. This highly functional Farmhouse complex blends effortlessly and elegantly into our forested landscape and the charm of our beloved Heckscher Farm." More...
Stanford Downtown
has 17 sculptures from its
Space Invasion
set of 30 commissioned works this summer that are for sale.
Each year Stamford Downtown hosts
Art in Public Places Outdoor Sculpture

,
lining the sidewalks and parks of the Downtown.
The 2019 exhibit,

Space Invasion

, featured 30 originally designed and painted fiberglass sculptures on the theme a space invasion and 17 are now still available for sale.
Anyone interested in purchasing a spacecraft can call
203-348-5285 for details.
The Connecticut League of History Organizations (CLHO) and CT Humanities (CTH) are touring the state to meet colleagues and share initiatives and opportunities for history and heritage.
CLHO executive director
Amrys Williams
and communications manager
Karlyn Marcantonio
will be joined by CTH's
Manager of Grants & Programs,
Scott Wands
and Manager of Digital Humanities,
Gregg Mangan
. A half hour of coffee and socializing will be followed by brief presentations, Q&A, and conversation.
Meet them
Thur.
Oct. 31, 2-3:30 p.m.
at
Lockwood-Mathews Mansion and Museum, Norwalk.
RSVP here.
Fairfield County's Community Foundation
(FCCF) reminds us that Fairfield County's next
Giving Day
is
February 27, 2020
. This is our region's biggest philanthropic event. Key items to remember:
●
Register
at
FCGives.org
from Nov. 1
. Sign-up by Dec. 1 and you get the chance to win $500.
●
Sign up for
Dec. 12 Giving Day 101 & 201 trainings
with GiveGab. Learn how to create and customize yo
ur profile and the best practices for donor stewardship. Giving Day 201 focuses on goal setting, social media str
ategies, engaging your board, and the power of peer-to-peer fundraising and matching challenges.
FUNDING & OTHER OPPORTUNITIES
NEFA: NEW INDIGENOUS PERFORMANCE GRANT
NEW ENGLAND STATES TOURING
Western Arts Alliance (WAA) announces the launch of the Advancing Indigenous Performance (AIP) Touring Fund, a new grant opportunity for presenters of Native performing artists.
The AIP Touring Fund provides matching fee support to presenting organizations, which engage eligible performing artists through the touring programs of the six
Regional Arts Organizations
. Arts organizations in New England receiving funding through NEFA's
New England States Touring
(NEST)
program for a project featuring Indigenous artists can receive an additional dollar-for-dollar match – up to 50% of the artist fee – from the AIP Touring Fund. NEST
applications must be submitted a minimum of three months in advance of the proposed project. Organizations are encouraged to submit applications early within NEFA's fiscal year (June 1 through May 31).
1772 FOUNDATION + CT TRUST
The 1772 Foundation in cooperation with the Connecticut Trust for Historic Preservation has announced that funding in the form of 1:1 matching grants of up to $10,000 will be made available for the following historic preservation projects:
exterior painting;
finishes and surface restoration;
fire detection;
lightning protection;
security systems;
repairs to/restoration of porches, roofs, and windows;
repairs to foundation and sills;
repairs to chimney;
masonry repointing.
All organizations who wish to be considered should send a one-page letter of inquiry to
1772@cttrust.org
and include the organization in the subject line. Letters of inquiry will be accepted until Tuesday, December 31, 2019.
TWO-DAY GRANT PROPOSAL WORKSHOP
The CT Community Nonprofit Alliance

presents a two-day grant proposal writing workshop, at post University, Waterbury. You or your staff will learn to craft successful grant applications to increase your organization's financial stability and sustainability! Designed for novice grant seekers, participants will receive a comprehensive introduction to the world of grant proposals. More details and registration here.
ARTS & ECONOMIC DEVELOPMENT WORKSHOP
Designed for planners, community and economic directors, developers, arts organizations and others interested in developing cross-sector arts and economic development projects, this workshop is organized and run by Dee Boyle Clapp and Meri Jenkins for the renowned Arts Extension Service of the University of Massachusetts Amherst. The workshop will be held at The Fairfield Museum & History Center on

Fri. Nov. 8

. Stay tuned for registration details.
TRI-CHAMBER EXPO & NETWORKING
P/T VISITOR EXPERIENCE COORDINATOR
The Aldrich Museum seeks a part-time
Visitor Experience Coordinator (VEC) who is responsible for the public face of the Museum by managing the front desk, supervising the visitor experience staff, and building relationships with the Museum visitors. This role primarily functions in communicating the Museum's programs and activities to the public, promoting excellent customer service in the Museum, and serves as a liaison between visitors and all departments in the Museum. In addition, the VEC is responsible for all details related to the public face of the Museum during their shift, and is charged with leading the Museum Attendants to ensure that all works of art are working properly, that all of the Museum's spaces are clean, and dealing with any other issue that may arise. Full information here.
DARIEN ARTS CENTER
THEATRE
TEACHING ARTISTS
The Theatre Program at the
Darien Arts Center
is seeking teaching artists with experience in Directing and/or Improv and/or Early Childhood Education. Experience with theatre education is preferred, but experience working with children is a must.
Darien Arts Center is a non-profit organization dedicated to educating, promoting and providing the means of artistic expression in dance, music, visual arts and theatre for members of the community of all ages. Our educational theatre elementary school classes impart team building, public speaking and listening skills. Middle school students are challenged to take ownership of their responsibilities by participating in ensemble-based programming.
Full information here.
FOR JOBS, FOR SALE, FOR RENT, VOLUNTEERS, AND CALLS FOR ARTISTS - CONSULT AND POST IN OUR
CLASSIFIEDS
Please help us expand the reach of our weekly E-Buzz newsletter with its selection of events taking place that week in our region
.
See the

most recent issue

. Share with a friend. Subscribe here.
Like anything here? Please Share it!
The Cultural Alliance of Fairfield County is a 501(c)(3) cultural nonprofit membership organization. We are grateful to our members and our donors whose support enables us to do our work. Donations are always very welcome and may be made
here
. In particular, we are grateful for support from: